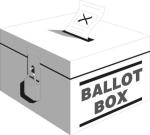 Voters head to the polls tomorrow to decide the Democratic and Republican nominees in key federal races across the state, and for those races in heavily Democratic districts, tomorrow's election will effectively be coronations. For hundreds of thousands of New Yorkers, our next congressional representatives will be determined Tuesday night.
My colleague David Freedlander has already weighed in with some thoughts, which you are more than encouraged to do as well by emailing him at dfreedlander [@] observer.com.
Here's some of what I'm watching:
Upsetting Conventional Wisdom
The collective thinking of most observers has incumbents Charlie Rangel and Nydia Velázquez favored to beat back their challengers with Hakeem Jeffries, Sean Patrick Maloney and Grace Meng as the frontrunners to win their primaries. But surely Election Day won't reflect conventional wisdom entirely, right? Where will the surprises come from?
At a glance, Rich Becker, with strong local support and a snippy campaign operation, would seem to have a solid shot at beating Mr. Maloney for the right to challenge GOP Rep. Nan Hayworth for her Hudson Valley-based district. Mr. Maloney has more campaign cash and influential labor support, however, and it's difficult to see where the final vote tally will end up with the two candidates' non-parallel strengths.
And while Mr. Rangel's campaign has been revving up into full gear lately, he's being pressed on multiple fronts and State Senator Adriano Espaillat has a path to topple him with a plurality of the vote. Mr. Espaillat's base is in the Dominican community, and Mr. Rangel's three other African-American challengers, notably the surprisingly strong campaign of Clyde Williams, are more likely to be taking votes away from the incumbent than Mr. Espaillat. Two things to watch for here are Mr. Williams' share of the vote and how well Mr. Rangel performs in the Bronx — the one part of the reconfigured district he has never represented in in his lengthy tenure.
Barron vs. Jeffries
There's no way to slice this race and have it not be fascinating. With the larger-than-life personality of Councilman Charles Barron and rising star Assemblyman Hakeem Jeffries going toe-to-toe, political observers have already grabbed their popcorn and staring directly at New York's 8th Congressional District, previously held by veteran Rep. Ed Towns.
The seat's boundaries were changed in redistricting, taking the majority African American district and sending it down through Russian Jewish neighborhoods like Brighton Beach as well as white areas like Howard Beach in Queens. With Mr. Jeffries campaigning hard for these votes (he's been running a steady stream of ads on post-Shabbos Jewish radio, activists in these neighborhoods have rallying hard against Mr. Barron and there is a Sephardic anti-Barron PAC in the mix), it will be particularly interesting to see how big of a margin he racks up in these precincts and what turnout looks like, as socially conservative constituencies may not necessarily be excited for the idea of a liberal congressman named Hakeem either.
Even though Mr. Jeffries is the favorite candidate in the race, Democrats are concerned about some of Mr. Barron's more provocative positions and statements and there are more than a few operatives that won't be able to rest easy until they see the Associated Press declaring his rival the winner.