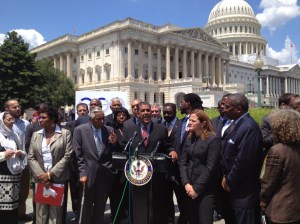 A delegation of elected officials from New York is currently in Washington D.C. to express their concerns about the NYPD's controversial stop and frisk policy and ask the Department of Justice to investigate the program as a civil rights violation.
Multiple sources have confirmed to The Politicker that Attorney General Eric Holder met with leaders of the Congressional Black Caucus yesterday to discuss the issue. A source on Capitol Hill also told us that, at that meeting, Mr. Holder expressed his interest in investigating stop and frisk.
Officially, Mr. Holder and the Department of Justice have not made any decision about whether they will investigate the program, which resulted in a record 684,330 people being stopped last year, the vast majority of whom were minorities. Councilman Jumaane Williams, who was part of the delegation that traveled to Washington, told The Politicker the Department of Justice is considering several options.
"It seems to be more a question of finding a way for them to do something than if they will do something," Mr. Williams said. "I was asking for them to do three or four things; a full investigation of the NYPD, being an intervener or filling an amicus brief or letter of support when it comes to the litigation against stop and frisk or to help us and find some way to support us on any of the legislative solutions were working on on the city and state levels. They didn't balk at any of it, they're interested in all of it."
Mr. Williams also said there were "no commitments made" and that the Department of Justice seemed to be looking for options other than a full-fledged investigation.
"One thing they said is that an investigation can be very lengthy and they might want to do something sooner rather than later," said Mr. Williams.
Mr. Holder previously discussed a potential stop and frisk investigation when he was questioned about the policy by Bronx Congressman José Serrano.
"We have looked at a variety of, 18 is the number now, of police departments who have engaged in practices that are inconsistent with the way in which they're supposed to serve the people that they represent," Mr. Holder said. "If we find that this is a problem in New York, it is something that we will investigate. It is something, at this point, that I don't think that we have an open investigation, but it is not something that we are not cognizant of."
If Mr. Holder does launch an investigation into stop and frisk, it will not be his first investigation of the NYPD. In March, he launched an investigation into the department's controversial Muslim surveillance program.
As of this writing, neither the NYPD or the Attorney General's office has responded to requests to comment on this story.