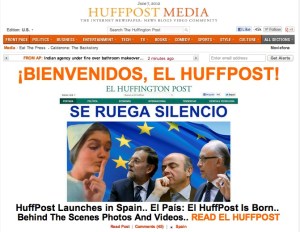 The top story on The Huffington Post's Media vertical today is arrival of Spanish-language sister site El Huffington Post, a partnership with Spain's biggest daily newspaper, El País. El Huffington Post follows Le Huffington Post (a partnership with Le Monde), Huffington Post Canada and Huffington Post UK in the AOL-owned news site's international expansion.
El HuffPo's editorial director is Montserrat Domínguez, a prominent television journalist and radio host in Spain.
"I met Montserrat (or Montse, as everyone calls her) on a Sunday morning when she interviewed me for two hours on her radio show, A vivir que son dos días," Arianna Huffington wrote in her introductory note. "I loved her right away — her passion for news and storytelling, her intelligence, her gift for intimacy."
The site's editor-in-chief is Guillermo Rodríguez, former editor of Público (another daily), and he appears to be a quick study. The stories on El Huffington Post's homepage already reflect the flagship brand's signature blend of politics and breasts.