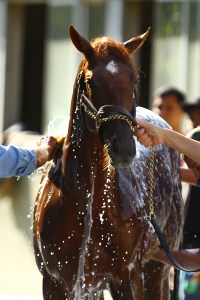 It's June, and yet we're still wearing our London Fog raincoats and carrying around our Brollys. It's almost as if New York's weather gods didn't get the memo that it's Hamptons season, and some of us don't like getting soaked waiting for the Jitney.
Another thing seasonal annoyance for New Yorkers is traffic created by out-of-towners, and this week's double-whammy of President Barack Obama's visit on Monday and that of his wife, Michelle Obama, later this week has the city grumbling about how to get crosstown. A little respect for our POTUS? Not during 6 p.m. rush hour, darling. Your cab ride will end up costing you more than a private trip on Air Force One.
Of course the sniping about this dilemma was the loudest—where else—at Serafina, during a party for Ramona Singer and Sonja Morgan. This week was the premiere of the fifth season of The Real Housewives of New York City, and after several tours around the charity circuit, we're inclined to believe that these ladies might be offering us the most "real" reality television on offer, which is to say that there are is a vast amount of white wine spilled in their wake, no matter what the occasion. Now that the show has Aviva Drescher, Heather Thompson and Caroline Radziwill, the claws have come out: Ms. Drescher has one leg! Ms. Thompson talks too much! Ms. Radziwill is a Kennedy by marriage! This can only foretell tragedy and pathos. We can almost hear Andy Cohen gleefully rubbing his hands together and laughing.
Speaking of ladies on bad behavior, Gwyneth Paltrow, that shining beacon of all that is good and urbane in the world, managed to slip the n-word into a tweet yesterday. Just confirming our suspicions that celebrities shouldn't tweet without running it by their publicity team first, Ms. Paltrow put up a picture of Jay-Z and Kanye West performing in France under the caption "Ni**as in paris for real." Ms. Paltrow was somewhat saved by record producer The Dream tweeting from his personal account that he was the one who had made the inflammatory remark from Ms. Paltrow's phone. That's why friends don't let friends tweet for them! Or another possible lesson: Don't tweet out the names of songs that have the n-word in them, even if you think you are being complimentary. Perhaps she believed she had immunity from racial slur blowback because she happens to be making an album with her "good friend" Jay-Z. But we don't think it works that way.
But one thing this week we won't be complaining about: the Belmont Stakes, where I'll Have Another will attempt to become the first Triple Crown winner since the late '70s. After winning the Kentucky Derby and the Preakness, I'll Have Another is on course to become the next Seabiscuit. Or perhaps SeaTriscuit, since this chestnut horse has lower doses of sodium and at least half the calorie count as the original. Of course, you never know what goes into these horses … especially right before the races. (Something that HBO's Luck tried to expose in its drama about horse racing before it fell victim to a severe case of dramatic irony and was shut down over the mistreatment and death of at least of three its own horses.) I'll Have Another's trainer, Doug O'Neill, has been found guilty of drugging his horses with carbon dioxide in 2010, and he'll be facing a 45-day suspension from the racetracks. But of course, this won't go into effect until after the Belmont.
On the other hand, I'll Have Another's jockey, Mario Gutierrez, is a real underdog hero, the type Hollywood and Stephen Spielberg would love to get their hands on. Starting as a jockey in Mexico City, Mr. Gutierrez made his way up to Vancouver, winning titles for racing along the way. His first reaction to seeing his champion partner? Well, that varies. He's told the BBC, "From the first time I met him, I knew he was the one." Other stories have the introduction less glamorous, with Mr. Gutierrez saying, "I don't even know who that horse is, but he's a freak."
Harsh words, Mr. Gutierrez. Maybe you should audition for next season of Real Housewives?