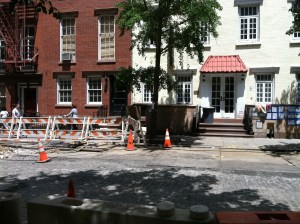 We were so excited about the new incarnation of The Beatrice Inn: the egalitarian, OpenTable.com, anti-smoking restaurant that will take the place of its former celebrity drug-fueled dance haunt, which shuttered three years ago. Especially since Graydon Carter, along with former Waverly Inn partners Brett Rasinski and Emil Warda, had promised that this time, there would be no Paul Sevigny.
In multiple interviews, Mr. Carter placed the opening of the new Waverly at the end of May. Yet anyone who has walked by 285 West 12th St. recently can see for themselves that the Beatrice is still under heavy construction. Another minor hiccup: they still don't have their liquor license. "Most tables will be available on a first-come, first-seated basis. This will be a restaurant for our West Village neighbors and their friends," Mr. Carter told The New York Post on May 2nd, dispelling rumors that this will be another exclusive Waverly-type secret.
And while we waited desperately for some signs of life inside the Beatrice Inn, May passed. The New York State Liquor Authority still has The Beatrice Inn under "pending" status for their December request for an on-premise alcohol license.
Technically, the restaurant could be holding a friends and family soft launch any time, as long as they give the alcohol away for free.
The bigger issue may be the construction of the building: signs on the block warn that there will be trucks parking in the neighborhood to bring gas lines into the building. (The permits are dated until June 1st.) The sidewalk outside The Beatrice has been demolished, as men in hard hats sit in the beds of their trucks, smoking cigarettes and awaiting instructions. Or is that all a facade to detour pesky investigators from walking through the front door? With Mr. Carter, you never know. (Then again, it would behoove Mr. Carter to get the building up to code, as city violations were what brought the first incarnation down in 2009.)
The Beatrice Inn might be able to slip in a few parties around the liquor license problem, but without gas, the restaurant's new menu, created by Brian Nasworthy, will all have to be served cold.
The Observer has called Mr. Carter for comment regarding The Beatrice's delayed opening, and are (anxiously!) awaiting a response.