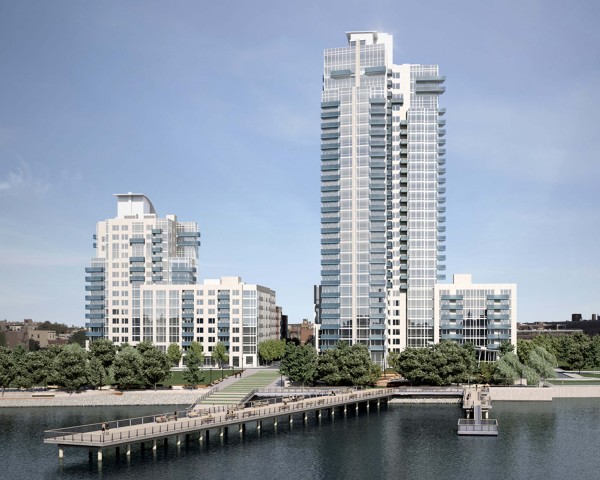 Williamsburg hipsters, if there are any of them left, may still resent the luxury tower glistening above their once-industrial waters, but at least it won't be bringing down the air quality.
The Edge has been awarded LEED Gold certification by the U.S. Green Buildings Council, the largest residential project in New York City to earn the certification—a designation sure to make the neighborhood's environmentally-minded residents, living in heat-leaking warehouses and poorly-renovated, vinyl-siding clad three-family homes, quite covetous. There are even energy-hogging amenities like indoor and outdoor pools, a golf simulator, a gaming room, two fitness centers, screening rooms and an on-site spa, so many that "residents never have to leave home," a release on the certification boasts (because that's why you moved to New York, right?).
Still, environmental bragging rights and a pool might be enough to prod a few would-be home buyers to leave the crummy apartments for which they almost certainly pay too much. Unfortunately, they'll need at least $750,000 to snag on of the remaining 25 apartments in the building.
Certification is based on water efficiency, energy, indoor environmental quality, building site and materials resources. The Edge has insulated walls, water efficient fixtures, kitchens with EPA Energy Star-rated appliances and during construction 84 percent of waste was recycled.
"Green design features at The Edge translate into both healthier living and cost savings for the residents," wrote Jeffrey Levin, chairman of Douglaston Development, in a release.
Because we're sure that people who are moving into the Edge are really worried about cost.
kvelsey@observer.com