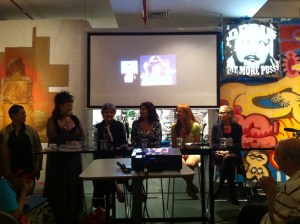 "How many people here have I fucked?" called out an exuberant Annie Sprinkle to the crowd Tuesday night at the Museum of Sex. The group had  gathered for the reunion of "The Golden Girls of Porn," as the panel discussion was billed. She got a few laughs, and some raised hands when she asked how many had seen her cervix in her infamous stage show.
The Q&A was led by Ms. Sprinkle's partner, Elizabeth Stephens and also featured Veronica Hart, Gloria Leonard, Candida Royalle and Veronica Vera—each exuberant, proud and, at times, wistful as they recounted their careers in the adult business. Fittingly, they formed their support group, Club 90, named for Ms. Sprinkle's nearby former apartment at 90 Lexington Avenue, in 1983, and have met semi-regularly ever since; all were bridesmaids at Ms. Vera's wedding to artist Stuart Cottingham this past weekend.
Porn, it turns out, wasn't a calling so much as "why not?" opportunity. Ms. Hart, armed with a theater degree, wanted to be an actress, and was drawn to her first set because she liked the script (she went on to have parts in Boogie Nights, Magnolia and Six Feet Under), while Ms. Vera slipped into one of Ms. Sprinkle's scenes to help out a male actor experiencing, ahem, difficulties.
The adult industry, to these ladies, was about making a statement rather than a quick buck. Ms. Leonard, the only one to share her age (71), started her porn career in her mid-thirties as a political act supporting free speech; she sounded quite pleased that during her tenure as editor of High Society, they were sued by the likes of Barbra Streisand and Ann-Margret, and won. Similarly, Ms. Vera smiled wickedly when highlighting a bondage photo of her that she included in her testimony before the Senate Judiciary Committee in 1984.
The only points of contention struck were over the environment and condom use in porn. Ms. Sprinkle, who hosted a talk with Ms. Stephens at the Museum of Sex last night called "Assuming the Ecosexual Position," expressed concern that porn is "killing the mountains" by using up so much bandwidth.California's mandatory condom-use law, which took effect in March, was largely scorned. Ms. Hart declared, "Our numbers for HIV are lower than the general population. We have policed ourselves." When Ms. Royalle said she wanted to protect her actors and set a "positive example," Hart shot back with, "We're not the only business where people take risks; look at policemen or firemen."
The overall mood was celebratory, as if their porn days were more nonstop party than work, though Ms. Royalle admitted to going into therapy to work out her early ambivalence about performing on camera and explained the group's necessity with, "You can't know how it feels to be scorned for something you've done and never be forgiven." Her favorite memory was learning to skateboard while preparing to shoot 1979's Hot & Saucy Pizza Girls.
Not much love was given to the modern porn industry, save for Ms. Royalle's Femme Productions line and Ms. Hart's ongoing work behind the camera (one of her sons, who was in attendance, works alongside her as a director of photography). From the crowd, infamous cable access host Robin Byrd lamented, "When you ask a multiple-choice question of today's porn star, they say 'uh-huh,'" giving the final word her best airhead inflection. "I can't think of a single name of a girl performing in porn today who will likely be remembered in twenty years," Ms. Leonard declared.
The fact that these women are still, if not household names, successful (though Ms. Leonard admitted she is "living close to the poverty level") and able to pack a room largely with their peers (one male audience member remembered scenes more accurately than their performers) is testament to their longevity.
Jeff Vanzetti, webmaster of the Internet Adult Film Database, agreed that Club 90's members helped shape porn and still have ardent fans. "Just like there's still a market for old music, there's still a market for old porn," he said, citing the Blu-Ray release of The Opening of Misty Beethoven, starring Ms. Leonard. Lisa Vandever, director of the CineKink film festival, concurred. "Their work has been instrumental in creating a happy, positive voice for women around pleasure and sexuality, both in their porn of the time and their endeavors since. It felt like we were basking in their presence."
While none of the women publicly discussed any negative repercussions to taking it all off on camera, Ms. Vera told The Observer some men she dated disdained her career choices. "Porn saved me from a lot of bad relationships."