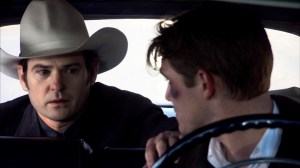 On a frosty New Year's Day in 1953, a life of genetic back trouble and spinal pain exacerbated by drugs, alcohol and self-abuse took their toll on a man in a white cowboy hat, slumped in the back seat of a powder blue Cadillac Eldorado convertible. Hank Williams died, holding a guitar and a notebook of unfinished song lyrics. The king of country music was 29 years old. He was on his way to a comeback, traveling from Montgomery, Ala., to sold-out shows in West Virginia and Canton, Ohio, in a blinding snowstorm, with a high-school dropout who didn't even know who he was in the driver's seat. The Last Ride, carefully directed by Harry Thomason and skillfully written with chords and spaces for humming and breathing by Howie Klausner and Dub Cornett, hauntingly and sensitively negotiates the final three days in the life and death of a legendary character of mythic proportions, warts and all.
This two-character odyssey, filmed in Arkansas with accuracy and a keen dedication to detail (a movie house they pass is showing Monkey Business with Cary Grant, Ginger Rogers and an early appearance by a curvaceous blonde named Marilyn Monroe) clearly envisions what happened in the claustrophobia of the car, the gas stations, the taverns and the hotel room where a trusting friendship reluctantly developed between the man who called himself by the alias "Mr. Wells" and by his recording pseudonym "Luke the Drifter," and the young garage mechanic called Silas Combs he hires to drive him. This may be artistic license (the real driver was a 17-year-old Auburn University freshman, not a grease monkey with a father in prison) but the relationship is true. The boy is played by newcomer Jesse James, who matches scene by scene the charismatic multidimensional star performance by Henry Thomas. Yes, the same Henry Thomas who struck cherubic lightning as the boy who befriended everybody's favorite Martian 30 years ago in Steven Spielberg's E.T. He's done a lot of firm, impressive work since then, but nothing as wrenching and understated as this. He makes it less of a fable about a dying, burned-out icon and more of a personal time-share during the last 48 hours of a damaged life. As two strangers who come together through fate on a holiday weekend and learn to care about each other as human beings, the two leads lend a harmonic balance to a pair of disparate lives as well as the questionable facts at the end of the road. Tanked up on Falstaff, coughing up blood from lung disease and chain-smoking unfiltered butts, and firing guns at slow pokes on the highway as the boy gets hauled in by the highway patrol and his "boss" gets him out of trouble, I found watching them a poignant experience.
A phony Hollywood version of Hank Williams's life, controlled by his widowed second wife, was filmed before, in 1964, as Your Cheatin' Heart. George Hamilton played the Grand Ole Opry star whose biggest problem seemed to be an allergy to fan clubs. The songs were by Hank Williams Jr., who added a musical patina no imitator could approximate. One problem with the revised realism of The Last Ride is the soundtrack, consisting of modern versions of the Hank Williams classics, two by Jett Williams, his daughter, born five days after his death. The original recordings would have brought the era to life with more force. Another caveat: I wonder why, if he was such a hillbilly icon, not one person on the road from Alabama to Ohio recognizes him from his television shows and album covers.
Still, it's a fascinating film that I enjoyed thoroughly. The Last Ride doesn't come with a break-the-bank budget and full-page marketing displays, but it is well worth looking for if you're in the mood for a movie that is captivating, an evocation of a time when the South and its music were on the cusp of change, and just a little bit different. It's satisfying and sincere in ways most of the big-budget junk currently taking up space on summer marquees never dreamed of.
rreed@observer.com
THE LAST RIDE
Running Time 103 minutes
Written by Howard Klausner and Dub Cornett
Directed by Harry Thomason
Starring Henry Thomas, Jesse James and Fred Dalton Thompson
3/4