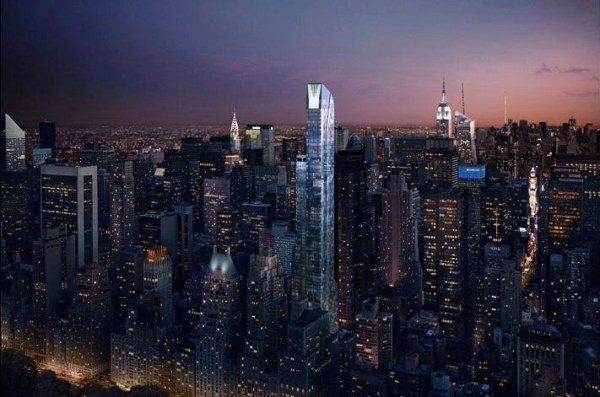 It's nothing new that Chinese buyers are flooding the apartment market in New York and the rest of the country. Yet a pretty definitive article on the subject in The Journal reveals some interesting facts about the lengths some developers will go to to reach the Chinese market, including one project of particular interest to us: Gary Barnett's One57.
In a nod to Asian buyers, the building put many of its most luxurious full-floor apartments on the 80th through 88th floors—a clever way to appeal to the Chinese belief that eight is the luckiest number. Apartment 88 is under contract to a Chinese buyer for around $50 million.

[…]

In the last six months, 10 to 15 pricey units in One57, a glitzy new high-rise being built in midtown Manhattan, went into contract with wealthy Chinese buyers. When completed, the building—which features a Park Hyatt below the condo units—will be New York's tallest residential building. HNA Group, one of China's largest conglomerates that recently bought several commercial properties in New York, signed contracts for two full-floor apartments and two half-floor units in One57, according to a person close to the situation.
And see here we thought the reason to build an exceptionally tall tower was to have unparalleled views. Look no further than 15 CPW to see that height isn't everything. But in the case of One57, Mr. Barnett has built the only tower with a full run of apartments on the 80th through 88th floors (89 and 90 are the record-setting duplex).
At New York by Gehry, the tower tops out at 76 stories, and besides, it's a rental, so not the best investment. Meanwhile the Trump International only hits 72 floors. The elevator, in a trick of architecture, counts 90, so maybe the Chinese would buy it, but the imposing black tower is two decades old, and as The Journal points out, Chinese buyers desire only new construction.
No wonder Harry Macklowe and CIM are building their 100-plus-story 432 Park. I mean, what other reason could one have for going so high? Certainly not the attention or bragging rights.