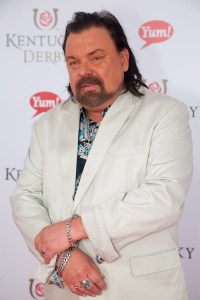 Yesterday a judge in Santa Clara County heard the early arguments in the battle over Thomas Kinkade's estate. Kinkade's girlfriend at the time of his death in April, Amy Pinto-Walsh, presented a hand-written document that, she says, lays claim to "his grand home called Ivy Gate and $10 million to Pinto-Walsh" and the right to administer $66.3 million from the artist's estate, according to the San Jose Mercury News.
She battles the artist's wife of 30 years, Nanette Kinkade, with whom he had four daughters. The paper's website actually features that sort-of will, which is presented below:
[scribd id=96974967 key=key-253bpg7sywum4zx7jxq9 mode=list]
Ms. Pinto-Walsh had been dating Kinkade for 18 months before he died from an overdose of Valium and alcohol. Here's some color about her from the Mercury News:
Throughout the hearing, Pinto-Walsh clutched a heavy silver pendant in the form of what appeared to be a dragon. After the hearing, she declined a request for an interview and wouldn't explain the symbolism of the pendant. But Pinto-Walsh, who is of Indian descent and raised in Kuwait, held the dragon in front of her throughout the hearing, as though it had special spiritual or sentimental value.
Yes, it's probably just a completely normal Indian-Kuwaiti magical dragon. Nothing to worry about, guys.