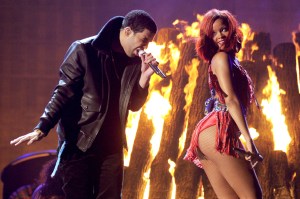 New York may need a time-out to sit and think about what it's done. According to Mayor Bloomberg, who has already made it clear that NYC citizens will no longer be able to sneak smoking breaks in the park or in their own homes (or anywhere else, really), he is now worried that we're all fat people ferrying prostitutes to and fro.
Or something like that. How else do you explain the proposed ban on sodas larger than 16 ounces? Is obesity illegal now? And while we're at it, his Healthiness managed to squeeze in a new statute for streetwalkers, which would penalize taxi  drivers for picking up prostitutes as fares. Even if they weren't aware that their riders were Jezebels, the cabbies would be fined $10,000 and lose their licenses for driving a woman about town around, well, town. Given the questionable sartorial choices of many of our fine city's residents, we anticipate more than a few passengers denied a ride on the basis that they look as if they get paid to have sex with strangers.
So far, though, the callous cab bill hasn't received a lot of attention—perhaps because no major spokesperson has come forward to defend the rights of the barely clad. Madonna, we need you back in New York, ASAP! After all, the 54-year-old mother has no qualms about showing her stuff for money, as audiences at world concerts in Turkey and Rome are now fully aware. Not only has the cone bra made a resurgence during the MDNA world tour, but so have the Material Girl's nipples and her bare bottom. "No fear" read the ink of Madonna's back during her stunts, which occurred both times during Madge's performance of "Human Behavior." We don't know; that particular reminder of our own impending mortality is pretty frightening to us.
We would even be willing to deport Drake and Chris Brown to some far-flung tour locale to take her place. The hip-hoppers turned SoHo nightclub W.i.P. into a deleted scene from Bottle Rocket when a fight between the two massive egos (and their bodyguards) broke out last week. Allegedly, the fight was over Mr. Brown's ex-girlfriend Rihanna, whom Drake is currently wooing. And in a surprising twist, it was the hot-tempered Mr. Brown who was trying to pass the peace pipe to his ex's new flame. The usually emo Drake's crew served up their own version of bottle service—namely bottles flying in the direction of Mr. Brown. What is the world coming to when two entertainers can't even have a decent fight in this town anymore? We remember the days of the Jets and the Sharks—at least they had catchy tunes.
Of course, not everyone can keep a cool personality in this sweltering heat. We know, it doesn't feel too humid, but temperatures are supposed to rise to the 90s this week. Hope everyone has their Hamptons gear packed. Not that the old New York summer haunt is full of fresh ideas: Real Housewife Sonja Morgan has been profiled not once, but twice for the front pages of Devorah Rose's Social Life magazine in the past two seasons. Which just shows a real lack of imagination. We're sure that there are plenty of others who are just as deserving of coverage in the pages of the hard-hitting luxury publication. For instance: Ramona Singer, Countess LuAnn Lesseps and Aviva Drescher. Hell, even Heather Thompson should get a page or two!
But maybe it's just an exercise in prolonged reader abuse: how many times can we read about Ms. Morgan's vegetable garden before we start thinking that Ms. Rose's sadistic impulses have gotten the best of her? Maybe she needs to sit and think about what she's done.