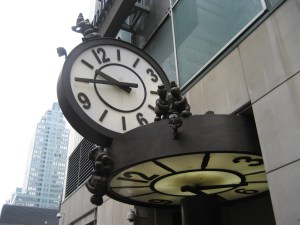 A redesign of the Time Square Hilton hotel means the Great White Way just got a little less Otterness-y. The new Hilton entrances on West 42nd Street and West 41st Street will feature illuminated panels, The New York Times reports, which necessitated the removal of some 60 or so sculptures by Tom Otterness featuring his signature doughy creatures.
Collectively called "Time and Money" the statues are currently in storage. From The Times:
We'd love to find a home for it," said W. Guy Lindsey, senior vice president for design and construction at Sunstone, which intends to donate the work, not sell it.

A couple of catches: the recipient must be a public institution, like a high school, a college or a park department.
All that sounds fine, so long as they're not re-installed on a bench the way one of the artist's statues is at the 8th Avenue-14th Street subway stop. I mean, come on, someone could be sitting there. It's just ridiculous.