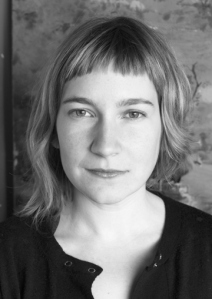 Imagine for a moment that an infant alien blob has oozed its way into the Columbus Circle subway station and through a miraculous process of osmosis managed to absorb the most important material from a rack of women's magazines. The blob would have a lot of direction about how a person should be. It would have a repertoire of 10 Things to Do With Mason Jars and know how to "upcycle" things. It would know how to execute the "G Spot Jiggy" and have some useful suggestions about what to wear to a wedding. But then something terrible would happen: for the rest of its life, from having received an injection of Seventeen, Readymade and Elle in a formative moment, the abiogenetic marvel that was the alien blob would experience the constant assault of dubious information flitting through its organ of reasoning. As it blobbed about it would never be able to forget the minimum Sun Protection Factor to wear out of doors, even in winter. When it squeezed its pimples it would be forced to recall from the magazines that pimples should never be squeezed. Thus besieged with all it knew of how to be, and aware of its consistent failure to fulfill even the simple mandates of some listicles, the alien would despair.
Something similar can happen to women. In her new novel, How Should A Person Be?  (Henry Holt, 320 pp., $25) Sheila Heti tries to address this. In her title, the tyrannical confidence of women's magazines and self-help guides is subverted in the interrogative form. Ms. Heti uses her novel to express her frustration with the female obsession with the question of the proper way to be. The literature of self-improvement, under the guise of offering instruction for happiness and overwhelmingly coded as female, instead serves too frequently as a reminder of ineptitude. "There are certain people who do not feel like they were raised by wolves, and they are the ones who make the world tick," writes a facetious Ms. Heti. She ponders the plight of the rest, with their appetite for more guidance and advice: How should a person pack her suitcase? What should a person eat? Who should a person marry?
Ms. Heti decides the search for such models is a waste of time. As one character puts it, "The only thing I ever understood is that everyone should make the big mistakes." Along with the endless consumption of instruction, female friendship is marred by the problem of mimicry. Sex is presented as something that can be carefully managed. When Ms. Heti's narrator decides to work on perfecting her blowjob technique instead of her writing, the metaphor is clear: when the quest for instruction and expertise overtakes production,the result is merely "an age of some really great blowjob artists." The premise of female uncertainty validates paternal advice; "just another man who wanted to teach me something," is a frequent dismissal in this novel.
The narrator of How Should a Person Be? is a playwright named Sheila who married and then divorced while still young. Before she gets married, "Commitment looked so beautiful to me, like everything I wanted to be: consistent, wise, loving, and true," she writes. "So I thought about marriage day and night. And I went for it like a cripple goes for a cane." Now that marriage has failed to make her the person she hoped she would be, Sheila has to find a new model.
During her marriage, a theater commissioned Sheila to write a play. The play did not have to be feminist, but it did have to be about women.  The imperative to describe a female experience is a problem for Sheila, who has always preferred male attention and never sought out female friends. "I didn't know anything about women! And yet I hoped that I could write it, being a woman myself," she explains. Sheila takes the commission for the money and hopes for the best, but her divorce provokes a crisis. The first draft of her play, which she wrote while still married, no longer makes sense to her.
Beset by uncertainty, Sheila goes to work as a shampoo girl for a hair salon and tries not to think about the extent of her procrastination. She also befriends a painter named Margaux, who never has trouble working. Sheila, who worries about the vanity implicit in writing, admires Margaux's work ethic and humility. Now that marriage has failed her, she decides that Margaux might present a new model of how to be.
Margaux worked harder at art and was more skeptical of its effects than any artist I knew. Though she was happier in her studio than anywhere else, I never heard her claim that painting mattered. She hoped it could be meaningful, but had her doubts, so worked doubly hard to make her choice of being a painter as meaningful as it could be.
To figure out how to be, and also to gather material for her play, Sheila begins tape-recording Margaux. "I thought maybe you could help me figure out why it isn't working," she says to Margaux about the play. "Then I can listen to what we say, and think it over at home, and figure out where I'm going wrong."  Interstitial scenes of these conversations, as well as conversations Sheila has with other characters, are interspersed throughout the book in script form, along with stage directions that describe Sheila's reactions—or that perhaps serve to tell her how to react, and how to be: "They laugh," or "Sheila starts idly leafing through a pile of papers, junk, and books," or "Margaux picks up a thing of jam."
This self-conscious and neurotic depiction of the creative process will feel a little familiar to readers of contemporary fiction. Like the narrators of Ben Lerner's Leaving the Atocha Station, Tao Lin's Shoplifting at American Apparel and Keith Gessen's All The Sad Young Literary Men, Sheila wanders here and there, doing drugs, going to parties, thinking about the value of the work she and her friends produce and hoping for some kind of fame. Unlike those books, the semi-autobiographical nature of the novel is explicitly acknowledged here, with the subtitle "a novel from life." In a further complication, Sheila Heti has published her own version of a self-help book, The Chairs Are Where the People Go, co-written with her friend Misha Glouberman, whom Heti also tape-recorded in that book and who here appears as the character Misha Glouberman, Margaux's boyfriend.
Ms. Heti's prose is filled with exclamation points that do not always provide the ballast lacking in certain revelations. Adverbs like "old-fashionedly," descriptions like the aforementioned "thing of jam" and "a fancy blue hotel" and "a bunch of people were at the airport," give her voice a faux naïveté that betrays the strength of her observations and assures that her exploration of the lives of female artists falls short of a standard of description set by Doris Lessing in The Golden Notebook or Sylvia Plath in The Bell Jar.
But two things set this novel apart from the contemporary, male-dominated milieu: the first is the depiction of Sheila and Margaux's friendship, with all its complication, insecurity and the positive things that result from mutual female discomfort. Margaux is like all of the characters in The Wizard of Oz wrapped up in one. "I admired her courage, her heart, and her brain," writes Ms. Heti. But: "I envied the freedom I suspected in her, and wanted to know it better, and become that way too."
The second is the charged sex Sheila enjoys with a man named Israel. "I don't know why all of you just sit in libraries when you could be fucked by Israel," she writes, addressing her readers directly. "I don't know why all of you are reading books when you could be getting reamed by Israel, spat on, beaten up against the headboard—with every jab, your head battered into the headboard. Why are you all reading?" Sheila mocks her readers' illusions that the chaos and vulnerability of sex can be effectively avoided by following certain rules (or The Rules). How Should a Person Be? might be the book you give to a friend when she tells you she is going to "date myself" for six months, or announces her departure for Kripalu. Sometimes drastic recalibration of one's life is necessary—if you're an addict, say, or starting over after a physically abusive relationship—but too many campaigns of self-reinvention are rooted in unnecessary recrimination. After getting in a fight with Margaux, Sheila embarks on a doomed crusade to New York and leaves Israel. When she tells him that she is leaving town to focus on writing her play, he mocks the pretense they both know to be false: "I hope you write until your fucking fingers break," he says. Their relationship concludes in a chapter called "Destiny is the Smashing of the Idols."
The limitation of resolutions to be better, more organized or kinder is best demonstrated in the book when Margaux and another artist character, Sholem, hold a contest to see who can make the uglier painting. The male character, Sholem, successfully renders a painting so ugly it makes him want to die. But the female artist, Margaux, reveals that the intention toward beauty or ugliness can effectively change very little. "I thought, I'll just do it instinctually, and the same thing came out!" she exclaims. A slightly glum Sholem agrees: "Even though you said you wanted to make this really awful thing, your strength is still in there."
 editorial@observer.com