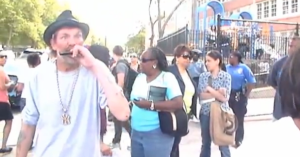 Congressman Bob Turner, a candidate for the Republican primary for the U.S. Senate, thinks the Democratic incumbent is responsible for for his wild and weird campaign event yesterday where several hecklers and a random harmonica player disrupted kids singing "Proud to be an American" in protest of the song being switched out in favor of a Justin Bieber hit at a kindergarten graduation ceremony.
The Turner camp claims that the presence of a man who positively identified himself as a tracker for Senator Kirsten Gillibrand at the event — but otherwise remained completely silent throughout the entire affair — is evidence that the mayhem was planned by her campaign.
"The Turner campaign believes Ms. Gillibrand, or those working in her behalf, orchestrated the disruption," a press release declared, with a campaign spokeswoman adding, "Senator Gillibrand needs to answer whether this man was there in her behalf as part of an orchestrated effort to shout down the children and congressman."
Pointing out that trackers are more than commonplace in today's world of campaign politics, Ms. Gillibrand's spokesman Glen Caplan called the allegation "utterly ridiculous."
"This is a bizarrely-false claim," he said in a followup statement. "No one from our campaign had anything to do with the mayhem of this event. Young schoolchildren know the difference between the truth and make-believe, so it's too bad Congressman Turner didn't learn anything from the kids."
Regardless of the veracity of Mr. Turner's claims, the bizarre event has undoubtedly worked to his benefit. All three contenders for the Republican nomination are largely unknown to the electorate and the story has picked up national attention as voters prepare to head to the polls in just a few days.
If you have yet to see the video from yesterday's press event, it remains highly recommended:
[youtube http://www.youtube.com/watch?v=_X3Hkx-Liwk&w=560&h=315]