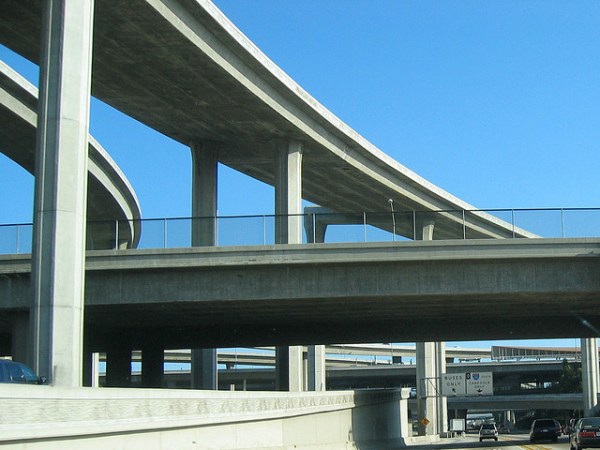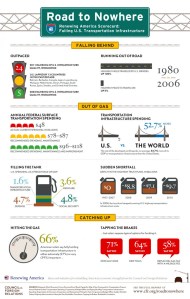 Who wants to spend tax money on new roads and bridges and infrastructure? Not the U.S.! We hate taxes here, after all.
The U.S. slowed down to from fifth to 24th in a ranking of infrastructure quality on a global level, according to a report released by the Council of Foreign Relations. And quality is not the only thing slowing down. Time and fuel wasted in traffic congestion cost the country $101 billion—or $713 per commuter in 2010. The percentage of economic growth in 2011 would have been .2 percentage points higher had the necessary infrastructure maintenance and improvements been made, according to the report, which was the first first installment of the Renewing America Report and Scorecard series.
The answer? More money! The  immediate cost of fixing the roads, bridges and railroads cannot be done with the $48 billion the government invests, but needs an increase of at least 60 percent. The report warns that the longer the government waits to fix the transit systems in place the cost ticks upwards.
But wait, you might ask, has not President Barak Obama prioritized infrastructure investment? Has not he supported legislation for an independent infrastructure bank?
Well, yes, and while the bank is great and all, "it would do little to address the country's transportation infrastructure problem," the report alleges. "Overall investment would be kept at current and inadequate levels, and spending priorities would also remain unchanged."
Long story short, report says we need more money. Currently, only 1.6% of America's GDP is spent on transportation infrastructure, compared to 4.8% on social security and 3.6% on Medicare. And while Americans think it's important—66 percent of U.S voters believe that fully funding transportation infrastructure is extremely or very important—we don't want to pay for it. Voters oppose not only new gas taxes and new tolls, but also replacing the gas tax with a mileage fee.
lhammerman@observer.com