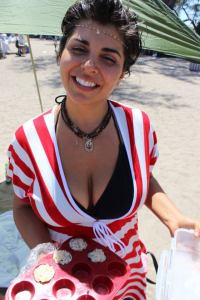 Please to meet Zeina Smidi, the Plantation, Fla. yoga instructor ordered by a U.S. District Court judge to pay $5.6 million in fines and disgorgements for her alleged role in a $30 million Ponzi scheme.
According to the Securities and Exchange Commission, Ms. Smidi—"Zeeluv" to friends— and her former finance James Clements sold unregistered investment contracts and promissory notes through a series of firms from 2005 through the middle of 2007, promising investors monthly returns as high as 11 percent, gains which she proposed to generate through foreign currency trades and high-yielding Swiss savings accounts. Instead, the government said, Ms. Smidi and Mr. Clements funneled $3 million in investor funds to personal accounts, and used another $3 million for personall expenses, including $270,000 on tickets to sporting events and more than $150,000 on air fare.
Anyway, Judge William P. Dimitrouleas entered the final judgements in the case yesterday, and it seemed appropriate to see how Zeeluv was doing. Despite having been ordered to return $2.5 million to investors and pay an additional $3.1 million in fines and interest, it appeared the answer was…not too poorly.
Whatever remorse Zeeluv felt over her alleged ill-deeds, or whatever disappointment with the penalties levied against her, the traveling yoga teacher—who apparently traverses the country in a bus fueled by vegetable oil—is operating from a place of peace.

Indeed, while many financial fraudsters go underground once their records become known, Zeeluv has hardly shrunk from the public eye since Judge Dimitrouleas levied penalties against her on May 21. A mere three days later, Zeeluv published an excerpt from her book, Thank You for HPV: A Simple Guide to Healing Yourself.* Soon after that, she was marketing a Jamaican yoga retreat for a lucky group of 10. ("I know the people who will show up will be exactly the people who are meant to be there together to experience this transformation," she blogged, and for $699, one of those people can be you.)
*Sample text:
Similar to the sprouting of a seed, viruses need fertile soil to grow. If placed on a counter top, the seed will not grow because it doesn't have the necessary ingredients. The seed needs fertile soil, water, and sun in order to grow and flourish. The same is true for a virus.

Mr. Smidi, or Zeeluv, didn't respond to our request for comment. We might have asked her, for instance, whether she had any advice for Allen Stanford, the disgraced Knight of Antigua sentenced to 110 years in prison for defrauding thousands of investors—Mr. Stanford, after all, had blamed the government for dismantling his "real brick-and-mortar financial institution." Would Zeeluv counsel Mr. Stanford to embrace his experience?
We may never know, but we can consult Zeeluv's World:
It's like the curve ball, the negative shit, the crazy shit—it's all an opportunity for me to grow, to reach my potential and for my soul to be fulfilled in this life. And I am grateful for the awareness to realize this. It's either "awareness and gratitude" or "depression and doom"—you choose!
Namaste.