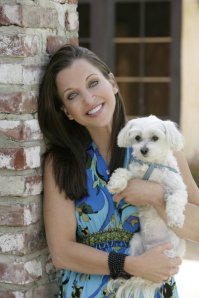 Poor puppy: Our story on Wendy Diamond and her terminally ill Maltese Lucky took a sad turn this morning, when we were texted by animal rights activist and television personality.
"Lucky has passed," read the text. And yet the wedding bells are still ringing…

"The wedding will still go on to celebrate her life," Ms. Diamond wrote, adding that an obituary could be found on her webzine Animal Fair. "I am now fostering a dog and have been heaven sent. I need to adopt another lucky dog, but there will only be one named Lucky though
On Animal Fair, her obituary reads:
In her constant quest to give back (and get some treats in return), Lucky served as the Chair-Dog for the Katrina Pet Memorial, Grand Marshall of Barkus, as well as the American Cancer Society's Bark for Life and hosted 1000′s of fundraisers in her lifetime. She was the only civilian dog admitted into the United Nations, and inspired the White House Pet Correspondents Benefit, St Pawtricks, Yappy Hour, Paws For Style, Howloween events, all to promote animal rescue and welfare. The Humane Society of New York has named a wing after Lucky! Check out AnimalFair.com to take a memorable look at Lucky's many accomplishments and adventures!
RIP Lucky: Our thoughts are with Ms. Diamond, as all of us here at The Observer know how devastating it is to lose a pet.