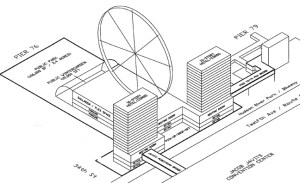 Faster than a gambler's luck, Governor Andrew Cuomo has changed his mind. For months, the governor insisted the Javits Center had to go, to be replaced by a new megaplex at Aquaduct, 3 million square feet of convention space, gambling and horse racing. Conventioneers insisted they wanted to be in Manhattan, but no matter. It all hung together until Genting's bid unraveled. In its wake followed rampant reports of millions in political contributions, so it seems like a safe bet Aquaduct is dead, despite promises of ongoing negotiations.
In its place, a million other hands have leaped into the pot for a piece of the action.
Crain's takes a good look at four competing casino/convention center proposals, including a plan for Willets Point once thought dead after the Aquaduct announcement, one in nearby Sunnyside, a longshot bid for Governors Island and both surprising and not at all, an expansion of the Javits Cente, which happens to date back to the Pataki administration.
The Javits plan has one big booster in William Wachtel, a well-connected real estate attorney who also owns a commuter ferry business, BillyBey Ferry Co., at nearby Pier 79 off 12th Avenue, a short walk from Javits.

Six years ago, Mr. Wachtel tried to interest public officials in a design he had commissioned that connects Javits to Pier 76 via a skywalk over the West Side Highway and replaces the tow pound at the pier with more than 1 million square feet of hotel, banquet and retail space, a winter garden, a 2.4-acre public park and an 800-car garage. It has also been identified by the operators of the London Eye as a possible spot for New York's own Ferris wheel, Mr. Wachtel said.

"The magnitude of what can be built on the site is enormous," Mr. Wachtel said last week, maintaining that his only motive is to improve the city, not to boost his ferry business.
The long list of interests betting on a casino is a familiar one, too. Beyond Mr. Achtel, MGM Mirage, Las Vegas Sands and $70 million condo owner Stever Wynn have all expressed interest.
As has perhaps the most surprising booster of all, Mayor Michael Bloomberg. During his weekly radio program on Friday, the mayor said he could see two casinos or more finding a home in the five boroughs.
"This city is big enough to have more than one," Mayor Bloomberg said on the John Grambling Show. "We have lots of different arts venues, for example, lots of different concert halls and stadiums." (Too bad it's not the John Gambling Show….)
It's a surprising admission from someone who has vocally opposed casino's in the past, fearing their social ills. The administration line now is that if casinos are coming, the city might as well get its beak wet.
Speaking of getting wet, one proposal Crain's did not touch on was Coney Island, an idea Borough President Marty Markowitz has been rolling the dice on ever since the governor first floated plans for an Aquaduct casino. Today, he took to the pages of the Daily News and penned an op-ed begging the Cuomo administration to gamble on Sodom by the Sea.