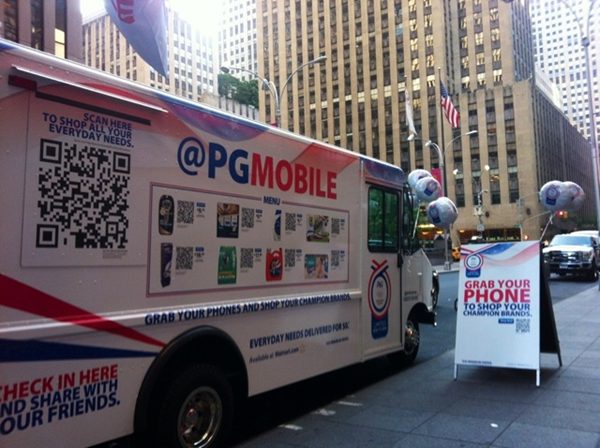 'Tis the season for food trucks, with the warm weather meaning comfortable lines and more customers. For Walmart, this is more the season of discontent, with opposition to the store in New York growing on the heels of the big box retailer's Mexican corruption scandal. Even long-time allies like the Related Companies have apparently given up on the southern-fried discounters.
But Walmart has hit upon a novel way to work its way into the city, on board a modified food truck run by partner company Procter & Gamble.
For the next month, @PGmobile will, in the tradition of the great food trucks to come before it, set up shops on street corners across the five boroughs, tweeting out its location and asking for suggestions on where to go next. Eight different products will be on offer—at Walmart's everyday low prices, of course—from Iams dog food to Gillette razers and Pampers diapers.
The Walmart name appears but once, tucked away on the bottom of the truck, and it is nowhere to be found on the associated Twitter feed. All the while visitors to @PGmobile are directed to shop for more great Proctor & Gamble products via those newfangled QR codes. They link to the products at Walmart.com.
Walmart claims that it has had limited involvement in the project, besides offering up its website as a portal to do more shopping.
"This is not at all related to any Walmart efforts in or about New York," spokesman Ravi Jariwala said. "In fact, it's not really related to Walmart at all, it's much more a Procter & Gamble thing. We're very pleased to be working with them. Consumable are obviously a very important category for our customers online, and the intent or the thought was as P&G does this, as consumers learn about it on the truck, they're always welcome to shop for these products on our website."
It is a rather brilliant strategy, playing on busy and desperate New Yorkers' demanding desire for convenience and immediacy, and then directing them to shop Walmart.com. As one tweet from Friday implores, "Less time shopping means more time to enjoy summer in the city. Come see us for free samples and an easier way to shop. While supplies last."
And yesterday, @PGmobile helpfully directs followers to a little online shopping: "Running low on Pantene? Pampers? Tide? No worries. You can get them all delivered for $0*. Come down to see how or shop http://ow.ly/bthEU." Not sure what that asterisk is for, but that link leads to Walmart.com, of course.
Watch out Amazon, Fresh Direct and Duane Reade.
P&G is even bringing out the big guns, like Olympic sprinter Tyson Gay, who is a spokesman for Gillette products: "Yup, that's @TysonLGay on the side of our truck. He's racing for gold, and @pgmobile is racing to bring you great deals. #pgmobile"
Great as all this publicity might be for Proctor & Gamble, as Ad Age points out, Walmart and Walmart.com seem to be benefiting far more from this little endeavor than does P&G. The Observer asked how the partnership came about but has yet to hear back on that part of the story from Walmart.
Ever wary of the big box retailers sorties into the city, Walmart's critics are prepared to hound these mobile marts, as well.
"Walmart pretends to save people money and time, but in reality it brings low-wage jobs and pollution to our communities," said Stephanie Yazgi, director of the WalmartFreeNYC coalition. "New Yorkers know when they are being fooled. No colorful truck or endless free samples can cover up Walmart's highly publicized scandals and purported corruption."
And you thought the line for the Waffles and Dings truck was bad.