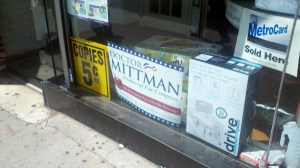 Robert Mittman, a longshot congressional candidate in Queens, not only has misleading campaign literature, he also has goofy robocalls.
"Knock knock," the ad begins.
"Who's there?" answers a young girl's voice.
"Your Assemblyman," he responds.
"Why aren't you in Albany representing us?" the ad continues.
Mr. Mittman's commercial, like the rest of his campaign, seems aimed at rival candidate Assemblyman Rory Lancman and is based off a New York Daily News report that he and another candidate in the race, Assemblywoman Grace Meng, had missed a number of votes up in Albany. Although technically the Legislature is in session and no lawmakers are casting votes at the moment.
"The joke's on us, the New York State taxpayers, " it concludes, referencing the knock-knock joke it opened with. "The power's now back in your hand."
Listen below: