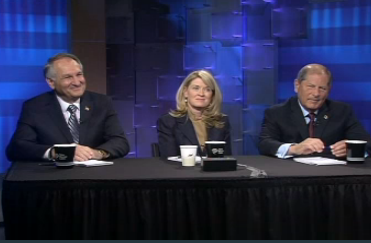 The three candidates seeking the Republican nomination to challenge Democratic Senator Kirsten Gillibrand debated last night and several interesting moments came up when discussing the same sex marriage New York enacted last year.
Notably, when one of the candidates, Wendy Long, faced a question as to whether she would, on principle, refuse to attend a same-sex wedding, she answered with a firm "yes."
The line of questioning appeared to move on before George Maragos could answer the question, but for his part, Bob Turner said, "I would not refuse, no."
Ms. Long's position places her further to the right of many Republicans in New York City, several of whom attended Council Speaker Christine Quinn's marriage to her longtime partner, Kim Catullo, last month.
Ms. Long, however, placed some space between her candidacy and the gay marriage issue, which she has made controversial comments on in the past.
"I can't do anything to overturn the state law," she said when asked if her campaign could be linked to efforts to overturn New York's marriage law. "My position is that marriage should be between a man and a woman. … [But] as a federal legislator there's nothing in practical terms that I can do about it. And from a Constitutional standpoint I do respect the right of states to decide these issues for themselves."
Ms. Long is backed by the state's Conservative Party, which heavily emphasizes opposition to gay marriage, and Mr. Maragos took a shot at her over what he felt was the inconsistency between her rhetoric and the Conservatives.
"According to the Conservative Party you cannot be a true conservative if you do not advocate a repeal of the New York State law," he declared.
"I assure you that I have their full support, in fact I was nominated unanimously to be their nominee," Ms. Long shot back.
"When your opponents are fighting it's better to sit back and watch," Mr. Turner mused on the back-and-forth between his rivals. "This ship has sailed in New York. I want to keep the focus on jobs and the economy."
"Let's get on to the other issues," he added.