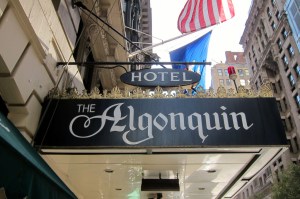 "This hotel is exactly how I would have imagined the Algonquin transforming itself in the 21st century," announced Penguin Books CEO David Shanks to an attentive crowd last week.
A single person clapped and, realizing they were all alone, stopped.
Mr. Shanks continued, "It exudes the grandeur of Gotham and the dazzle of the iconic Mad Men design gone modern." Mr. Shanks cleared his throat. "It's really amazing."
Last Monday, a group (of "top hotel and publishing executives as well as media industry influencers," per a press release) was gathered at a private party to celebrate the grand reopening of the gut-renovated hotel and the launch of its new partnership with Penguin Books.
Scheduled to coincide with Book Expo America, a massive publishing trade show that forces attendees to trudge all the way to 11th Ave., three evening readings and panels were to take place in the lobby.
These readings, called the Penguin Preview Series at the Round Table, will continue on a quarterly basis. Another aspect of the new partnership is the Night-table Reading promotion, in which books and galleys from Penguin's recent releases will be distributed to hotel guests each night.
It's all a concerted effort to reclaim the "rich literary history" (a phrase repeated ad nauseum through the night) of the hotel, where, during the 1920s, the Algonquin Round Table met for lunch to exchange jokes and barbs, where The New Yorker was born in 1925, and where Dorothy Parker said that thing about leading a horticulture (you can't make her think).
Penguin authors abounded: Elizabeth Gilbert, Ron Chernow and Simon Doonan milled around, Rachel Dratch chatted with John Hodgman in another corner, and Andrew Ross Sorkin, who dropped by on the late side.
We asked Mr. Hodgman if a literary salon could be revived in this way. Can there be another Algonquin Round Table?
"Salon culture still exists, but it's online now. Writers don't need to get together in an actual place any more," Mr. Hodgman mused. "Though writers would benefit from a meeting place, because there would be alcohol and table service. Writers love hotels because they are the living rooms they cannot afford themselves."
Pulitzer Prize winner Junot Diaz responded to the same question with characteristic flourish, but no optimism. "An incubator for personalities supremely attuned to this socio-cultural moment—it would be a wonderful thing for human circuitry. But communities have diffused and moved into the thinnest splinters," he said.
Marion Meade, biographer of Algonquin patron sinner Dorothy Parker, clutched a glass of white wine with both hands, and proudly gestured toward one of her books, displayed in a glass cabinet in the lobby.
When asked if the spirit of the place could be revived simply by hosting readings and stuffing a new novel next to the Bible in each bedside drawer, Ms. Meade replied with an acerbic pragmatism.
"They are probably the only hotel in New York that has this kind of literary history. If they don't use it, they're pretty stupid, and they're not stupid. Whether they can keep it up with Penguin, who knows, but I give them credit for trying."
What would Dorothy Parker think of this latest campaign to capitalize upon the hotel's literary pedigree?
"She'd think it was bullshit," came the answer.