Episode summary: Bill and staff blogger Neal bond over this amazing movie about Facebook. Bill is attracted to the brilliant writing of the film, while Neal opines on its cultural relevancy. They decide to forgo the news that evening so Bill can do an entire episode devoted to pitching The Social Network's writer as the voice of a generation.
dgrantobserver
Episode summary: Mackenzie and her producer Jim Harper travel to San Jose to cover the story, but are forced to choose between their journalistic integrity and the value of a human life when they figure out a way to rescue Edison Pena. The eventually get involved and save him, but make him promise not to tell the world of their good deed.
dgrantobserver
Episode Summary: Not understanding how the Internet works becomes a hindrance for our protagonist, who, despite pleading from his EP to "just turn on your computer," assigns everyone on the News Night desk to write an hour-long memorial episode for Tom Bosley.
dgrantobserver
Plot summary: Romantic entanglements in the office escalate when guest panelist Sean Penn personally invites associate producer Maggie to come visit the devastated country with him and Wyclef Jean.
dgrantobserver
Plot Summary: A dreamy Scott Brown (Peter Krause) is invited for an exclusive News Night interview after winning Ted Kennedy's seat in Massachusetts. It all goes fine until the cameras roll and Bill locks horns with the Republican on-air, where it's revealed that the Senator also used to date Mackenzie.
dgrantobserver
Plot summary: Episode inexplicably focuses on the importance of former Playboy models in the newsroom.
dgrantobserver
Episode Summary: ACN president Charlie Skinner (Sam Waterson) threatens to replace Bill McAvoy with a CGI N'avi if he doesn't start playing by the rules.
dgrantobserver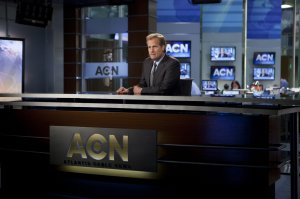 Last night's premiere of Aaron Sorkin's The Newsroom may have been a bit of a letdown, but we're holding out hope for HBO's new Sunday night staple. After all, the M. Night Shyamalan twist that SPOILER ALERT the whole series takes place in 2010 was kind of a neat trick, right?

Just think about the possibilities: instead of trying to keep up with the news cycle, Mr. Sorkin has afforded himself a two year leeway to have the News Night team discuss world issues which have already been resolved: thus allowing the staff to be on the correct side of history while playing up the fun "Hey, remember the BP Oil Spill??" nostalgia factor. It's like Mad Men, except not that long ago.
We've come up with seven additional episode arcs based on the news of yesteryear: feel free to add your favorite 2010 moments in the comments!