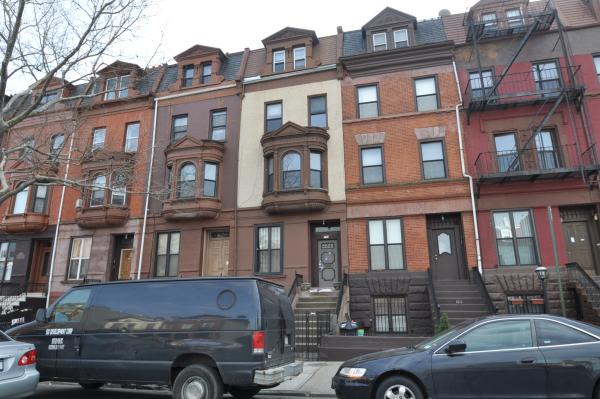 As The Observer reported on Wednesday, a coalition of development and labor groups have launched the Responsible Landmarks Coalition to challenge what they see as mission creep on the part of the city's Landmarks Preservation Commission and the preservationists that surround it. The argument is that the preservationists are overwhelming the city with their protections and stiffing development, and thus the city's economy. (F.I.R.E., baby, F.I.R.E.!)
But in Clinton Hill, they are feeling none of the love, as the commission has rejected a community-led effort to have Lefferts Place, just south of Atlantic Avenue, considered for historic district designation, according to The Times-affiliated Local Fort Greene/Clinton Hill blog.
The commission rejected the proposed historic district because it did not have sufficient, contiguous historic character to warrant protection.
"After a careful analysis that included several site visits and independent research, the Commission's staff determined that the proposed area does not meet the criteria for a historic district, and will not be recommended to the full Commission for historic district status," the spokeswoman, Lisi de Bourbon, told The Local.

Architecturally, the proposed district includes many row houses from the mid-19th century, as well as several earlier villas, early-20th–century apartment buildings and churches.

But it also features several architectural adjustments made over the years, which disqualified the plan earlier this week.
The entire reason the locals wanted the strip protected was to prevent further "adjustments," including the recent destruction of one of the area's oldest houses by a developer.
It is perhaps the perfect example of why the builders want the LPC to be reigned in and neighbors want more, more, more. Were the street landmarked, there is a good chance the developer could have been forbidden from destroying this almost two-century-old house. On the other hand, the commission is open to new development as well, but they would have made sure the developer built something that fit in with its neighbors. Now, anything can be built here.
Is that O.K.? It depends on ones Randian leanings (what would Howard Roark do?). As Peg Breen, president of the Landmarks Conservancy told us the other day, one of the joys of New York is its dynamic architectural layers. In away, this is pushing it forward. The house, while old, was not beautiful. This is partly a problem of neglect, and perhaps it could have been rebuilt lavishly and beautifully. But instead it will be replaced, hopefully with something worthy of the street.
Unfortunately, rarely is that the level of design in Brooklyn these days, and that is no doubt what has the neighbors worried. If they had faith in the developers of the land, then there would be no need for a Landmarks Preservation Commission. But those fighting for this district were doing it for good reason. If history is a good guide, they are bound to be disappointed by whatever replaces this place.