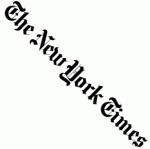 Last month, The Observer wrote a piece detailing how the New York Times endorsement process works, what the editorial board looks for in a candidate, and how much getting the gray lady's nod determines who emerges victorious on election day.
Now, with New York's federal elections only a few weeks away, we take a look at each of the competitive elections on June 26, take a guess at which way the paper will go and deduce what kind of an effect it will have.
Disagree? Make it known in the comments.
U.S. Senate Republican Primary—Bob Turner vs. Wendy Long vs. George Maragos
It is no by means a certainty that The Times will endorse in the GOP Senate primary, and if they do, expect it to be a hold-you-nose-and-vote-for-the-guy-who-is-marginally-better-than-the-rest kind of endorsement. Expect something along the lines of the paper's endorsement of Mitt Romney in the presidential primary in April, in which they mocked Mr. Romney for abandoning his moderating tendencies and slammed GOP extremism before declaring the Massachusetts governor "the best choice of the field." For this little noticed Senate race for the right to go up against Kirsten Gillibrand, the paper is likely to go with Bob Turner, a Queens businessman-turned-congressman, who is far less strident in his social views than Wendy Long and more dynamic than George Maragos. Mr. Turner is running very much as the candidate of New York City, and hometown pride may count for something here.
How Much Will It Matter?
On its face, probably not all that much, since to most of the GOP primary electorate the paper remains a liberal rag that frequently skirts the edge of treason, but with turnout expected to be low, there remain Republicans in wealthy parts of New York City suburbs who aren't paying much attention to the race, and will only decide who to vote for at the last moment, so a nod from the paper of record could prove decisive.
NY08—Hakeem Jeffries vs. Charles Barron
Possibly the easiest choice for the board this election cycle. Hakeem Jeffries is everything The Times says they want in a candidate: he has a record on Rockefeller reform, prison reform, stop-and-frisk reform, redistricting reform. education reform. Did we mention he went to Georgetown and practiced law for Paul, Weiss? Charles Barron, meanwhile, a former Black Panther with a history of throwing rhetorical bombs, would have been wise to not show up for his endorsement interview.
How Much Will It Matter?
In the more affluent parts of the district, Times penetration is strong, but those votes were going to likely go to Mr. Jeffries anyway. If anything, look for Mr. Barron to use the paper's endorsement of Mr. Jeffries as further proof that he is the insurgent running against the establishment.
NY07—Nydia Velazquez vs. Erik Dilan
Nydia Velazquez is by no means a perfect pol from The Times standpoint—too slavishly devoted to organized labor and a little wobbly on Israel, but far far better than Erik Dilan, who is closely allied with Brooklyn Democratic Party boss Vito Lopez—a no-no from the paper's standpoint. Plus, Ms. Velazquez has made fighting poverty a priority, as has The Times, while Mr. Dilan has been right of center in the City Council and has been less than transparent about his campaign finance filings.
How Much Will It Matter?
As these things go, it could matter quite a bit. The newly redesigned NY07 skips through some affluent neighborhoods in brownstone Brooklyn and on the east side of Manhattan where Times readership is pretty high.
NY13: Charlie Rangel vs. Adriano Espaillat vs. Clyde Williams vs. Joyce Johnson
At last, a real choice for the board. In 2010, they endorsed Joyce Johnson, a Seagram's exec with limited political experience, but they couldn't then endorse Charlie Rangel, whose use of rent-stabilized apartments for campaign purposes—a story that the Times uncovered—led to the longtime pol's censure in the House. But Ms. Johnson is by no means a lock this time around, since Mr. Rangel is facing far more credible opponents. Clyde Williams, a former aide in both the Clinton and Obama White Houses, represents a new face of African-American leadership and has run a substantive campaign. Adriano Espaillat is vying to become the first Dominican in Congress, and the paper likes for minority groups to be represented by their own. And don't discount the possibility that the board decides that the threat of losing an institution like Mr. Rangel is too grave. Mr. Espaillat's campaign hasn't been as policy heavy as the paper would like, but expect ethnic considerations to win out over Mr. Williams by a nose, with Mr. Rangel remaining a dark horse contender.
How Much Will It Matter?
The newly reconfigured NY13 lost the Upper West Side—which probably has the highest concentration of Times readers on the planet—and so won't count for all that much in a new district that covers Harlem and parts of the South Bronx.
NY6: Grace Meng vs. Rory Lancman vs. Elizabeth Crowley
This is a hard one to figure, and oddly, probably depends a lot on what the Times decides to do with the Rangel race. Like Mr. Espaillat, Ms. Meng is a pathbreaking candidate, vying to be the first Asian-American from New York to serve in Congress. And the newly reconfigured district is a majority Asian. Still Rory Lancman has run a specific, policy oriented campaign, and the hard-charging Asssemblyman fits the profile of the kind of pol that The Times likes. And Ms. Meng's ties to the Queens County Democratic Party—who have fended off accusations of throwing surrogate candidates onto the ballot to weaken Mr. Lancman—will hurt her.  If the paper goes with Mr. Espaillat in a majority Hispanic district, it likely frees the board to go with Mr. Lancman here. If not, Ms. Meng has a better shot. Elizabeth Crowley has struggled on the stump, and isn't likely to merit serious consideration.
How Much Will It Matter?
Quite a bit in some of the more affluent neighborhoods of Queens  around Forest Hills. Mr. Lancman is counting on those voters coming home to him, so it could be devastating if the paper goes with Ms. Meng.