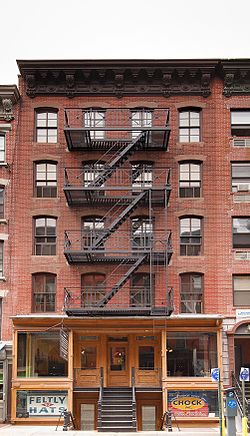 Well, they may not be the most popular historic sites in the city—after all, not everyone can be the Brooklyn Public Library, Congregation Beth Elohim, the New York Botanical Garden, or the Bartow-Pell Mansion Museum—but 16 other historic sites will still get some c-notes through the Partners in Preservation program.
Last month, the program doled out $905,000 to the four historic sites that best caught the public's imagination, winning the most popular votes in a battle that spanned five boroughs and 40 sites.
Today, another $2.1 million in grants was awarded for 16 preservation projects selected by an advisory committee and preservation leaders.
Among the winners was the Lower East Side Tenement Museum, which will take $170,000 home to its dank and dark apartment. The grant will go to arresting the deterioration of three of its "instructive ruin" apartments. In other words, a grant to stop the actual deterioration of instructively deteriorated apartments.
Some of the other winners also managed to net more than or as much as the four most-popular sites (popularity isn't everything, after all). The Brown Memorial Baptist Church in Brooklyn will get $200,000 to complete the restoration of its Tiffany Pilgrim window and the Henry Street Settlement in Manhattan will receive $175,000 to develop a model for achieving sustainability in historic structures.
The Apollo Theater, the Louis Armstrong House Museum, Woodlawn Cemetery, Tug Pegasus & Waterfront Museum Barge, St. Mark's Church in the Bowery, the Alice Austen House Museum, Staten Island Museum and Flushing Town Hall each won grants of $100,000 or more.
Other winners included the Queens County Farm Museum, the Federal Hall National Memorial, the Caribbean Cultural Center and Weeksville Heritage Center.
But guess what? Everybody was a winner (kind of)—the 20 sites that didn't win any of the big prizes will still receive $10,000 a piece. Yay!
The competition was sponsored by the National Trust for Historic Preservation and American Express; for a little over three weeks, it asked the public to vote online daily on what historic site was most important to them.
"By spotlighting the benefits of historic preservation and the need for funding to keep historic sites vibrant, this program has galvanized New Yorkers to recognize the treasures in their communities," wrote National Trust for Historic Preservation president Stephanie Meeks in a release. "The long term benefits of the program are evident with the increased engagement of local preservationists by the historic sites through their web pages and social media channels, coupled with an increase in visitors to the sites themselves."
kvelsey@observer.com