Scott Thompson, you'll remember, is the former Yahoo chief executive ousted last month afteractivist investor Dan Loeb uncovered inaccuracies on Mr. Thompson's resume. Brian Dunn, meanwhile, was the CEO of Best Buy until April, when he left the company amid an investigation that eventually revealed Mr. Dunn had what the polite press called an "inappropriate relationship" with an employee.
YouGov looked at the reputational hits suffered by the two companies, and concluded that…lying on your resume isn't as bad as shtupping an employee nearly half your age. Here's the YouGov BrandIndex: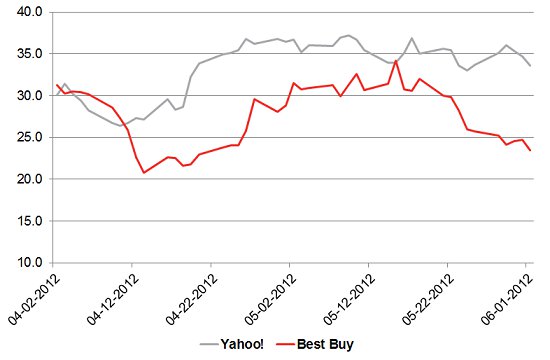 And a grab from the YouGov report:
Yahoo's reputation bounced back quickly after the April layoffs and only experienced mild bumpiness in the 11 days then-CEO Thompson was under the gun for his college credentials.

On the other hand, when Best Buy CEO Brian Dunn resigned under the cloud of an "inappropriate relationship" with a female employee—at about the same time as the Yahoo layoffs—the chain's reputation sunk considerably below Yahoo. Best Buy slowly recovered to Yahoo levels from mid-April to mid-May, only to fall back hard again when founder Richard Schulze stepped down for not handling the Dunn affair to the board's liking.
Well, none of that feels very surprising, but it's interesting today amid news that Mr. Schulze will put his 20 percent holdings in Best Buy in play. After all, Mr. Thompson's ouster helped settle Mr. Loeb's longstanding beef with Yahoo's board. We can't help but wonder, then, what YouGov's research would look like one month after Mr. Schulze relinquished all or some of his stake.