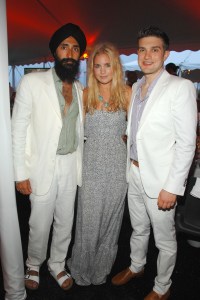 Saturday night the skies grew ominous as The Observer rounded the bend toward Fairview Farm, located right on the water in Bridgehampton. Luckily, we were greeted by giant white tents arranged for "Unmasked," the Alexander Soros Foundation's Global Witness Gala.
Like his father, 26-year-old Alexander Soros is quickly becoming a well-known figure on the philanthropic scene, most noticeably with a donation of $250,000 to Jewish Funds for Justice. Although this was his foundation's first public event, the names on the host committee were enough to fill a Weinstein dinner party.

Unfortunately, half of the hosts were missing: We couldn't find Robert Redford, Emma Thompson, Arianna Huffington or Anne Hathaway in the big-top tents. ("Mr. Redford sends his love, but was unable to attend," the PR woman informed us dutifully.) Among the guests, however, schmoozed Justin Bieber's über-manager, Scooter Braun, actor Jeffrey Wright, the Soros Foundation's Michael Vachon, designer Johan Lindeberg (recognizable with his ZZ-Top beard) and economist Dambisa Moyo.
The theme of the party was "unmasking" the inner superhero, and though tiny red masks attached to sticks were handed out at the entrance, we didn't notice if anyone was actually using theirs, or when the appropriate time to take them off was. Instead, guests held them under the crook of one arm as they crowded around the entrance where Fred Adler was holding court.
"I used to have a place up in Water Mill—back when I could afford it," the venture capitalist was overheard telling several partygoers, many of whom who had traveled from that specific piece of real estate themselves.
Heading deeper into the big top, we ran into Mr. Wright, of Syriana and Basquiat fame. "I've been involved with these causes for years," Mr. Wright told us before an old clock bonged and we were forced to move from the cocktail tent to the seat-yourself dining area. "I have a company that mines for minerals in Sierra Leone, and our goal is to create a more sustainable industry … one that gives jobs back to the community."
Co-hosting the evening was multiple-Hollywood-statuette-owner Edward Zwick. Sure, we could have asked him about the Academy Award-winning films that he directed, like Glory or Legends of the Fall, or discussed his work on Traffic. (Or maybe just mention how we can still recall the scandalous Entertainment Weekly cover for Love and Other Drugs, which he wrote, directed and co-produced.)
We asked Mr. Zwick about his latest project. "It's about Bobby Fisher, sort of the later years," the producer told us. "We have Tobey Maguire playing the lead, although he's a little old: Bobby Fisher is supposed to be in his early 30s in the script, and Tobey is 37."
Anthony Lane similarly pointed out Mr. Maguire's age in his review of The Amazing Spider-Man for The New Yorker. We wondered why this was the current factoid du-jour. Perhaps it was just a coincidental reminder of the relentless march of mortality, that soon Mr. Maguire will be passing out of his 30-somethings.
But we didn't ponder too long.
During a meal of fish and macaroni and cheese, Mr. Braun and Mr. Soros introduced a short film in which Global Witness director Simon Taylor called upon the superheroic "men and women without capes" of Global Witness, who investigate human rights abuses in Third World countries. The supervillains, in this case, would be the kleptocratic dictators and corporations that siphon off natural resources and exploit local labor in these areas.
We complimented Mr. Taylor on his analogy, to which the Brit replied dryly, "I wasn't sure how well the superhero thing would go over. But you liked it?"
We did indeed.
Next was the auction, in which a slightly more rumpled Mr. Soros came back onstage to sell everything from a membership to Sitaras Gym ($2,500) to a chance to meet Justin Bieber backstage ($10,000).
Then came the surprise of the evening: MC Hammer performed while the group of Mr. Soros's young jetsetting friends partied down to "Can't Touch This". (Stop, Hamptontime?) Armed with red roses, Mr. Hammer dedicated his performance to "all the beautiful women at the event" before launching into "Have You Seen Her?"
Insouciantly plunked at our table and refusing to take off his sunglasses, rakish entertainment lawyer and Sean Parker confidant Eric Lerner was busy telling The Observer how a character in Royal Pains was based on him.
"See, the younger brother of the Hamptons doctor is named Evan R. Lawson, and he's described as 'socially ambitious,'" Mr. Lerner explained, finally becoming animated. "I have a friend who writes for the show—that guy is totally me." Mr. Lerner kept his shades on through half the evening, despite the fact that it was nighttime … and raining.
As for the young Mr. Soros, he was doing his best to both greet his multitude of friends and survive his first philanthropic outing with aplomb. After introducing himself to The Observer several times without answering any questions, he finally relented to give us a quote.
"I couldn't be more proud or excited for what we're doing this evening," said the Soros scion, decked out in white linen and, like Mr. Lerner, a pair of stylish sunglasses.
As for Mr. Soros Sr., we had only a couple of moments to ask him about his son's event.
"It's a good thing we got to put up these tents, in case it begins to pour," a friend answered for the billionaire philanthropist.
There was a sudden clash of thunder, as the storm began in earnest. Mr. Soros smiled at us and shook his head, though whether the gesture implied "No Comment" or was, in fact, a comment on the timing of the weather was anyone's guess.