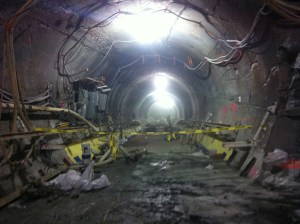 The MTA didn't want us there, in fact we didn't even ask for their permission, but somehow we found ourselves 60 feet underground and choking on the dust left from a dynamite explosion that took place just minutes prior to our descent. Clad in water resistant boots, safety goggles and a bright green hardhat The Observer was ankle deep in mud at an undisclosed location somewhere along the sight of the 2nd Avenue subway construction.
After zipping down a painfully frightening metal cage of an elevator and awkwardly hoisting ourselves up a slippery ladder onto a pile of sludge we finally got a chance to catch our breath and get our bearings. The view was insane.  The cavernous walls were vast, and mounds of muddy hills sprawled like waves. First things first, "Can I take a picture?"
The 30-year veteran sandhog with a tangled wiry gray beard, who had volunteered to take us underground, encouraged us to do so. But one stipulation, "Just don't put those up on your YouTube," he said.
"The YouTube" and "your Youtube" were referred to more than once over our tour. It became apparent that the sandhogs had declared YouTube "enemy number one" after one of their 2nd Avenue neighbors had been uploading videos of the construction workers smoking or standing around and claiming they are lazy, noisy, messy—you name it. The guys aren't sure what he looks like, but they're getting warm.
"He lives in that second brown building on the right. Eighth floor," a guy later told The Observer above ground while pointing through a gap in the muck house wall.
Back underground, there were no spies nor sunlight and not a dry or solid surface to stand on (with the exception of an elevated makeshift kitchen that consisted of a picnic bench and toaster oven). There was either rocks, soggy dirt or bright yellow waterproofing vinyl squishing beneath our oversized boots as our new bearded friend led us along the tunnel path.
Mr. Big Beard taunted us every time we misstepped. "So I got you down here, but you'll have to find your own way out," he cackled. We mustered a forced laugh and strained to find the beam of light of the elevator shaft, but from underneath our plastic-brimmed hat but saw nothing—just mud and dust.
We tried hard to ignore how dusty and arid our throat had become, in an effort to be every bit the sandhog and (quite literally) suck it up, until we heard a group of real sandhogs complaining about the air. Thank God, we thought, as we finally relented a raspy, "Yeah, it's pretty hard to breathe in here." Cough, cough.
As it turned out, another gang of construction workers on a different contractor's section of the train line had been doing some work, which was pumping what was either sawdust or smoke into our section of the tunnel. Separated by only nailed up boards and three industrial strength fans, The Observer could see orange vests moving about on the other side of the barrier.
"We should reverse the fans and send that shit back at them," one twenty-something red-head chirped. The others shot disapproving glares past the blades of the fan. The men all motioned to our tour guide, Mr. Big Beard, "You go tell 'em boss," they riled.
And, just like that Mr. Big Beard was off and we were thrust into the care of a new sandhog with Bradley Cooper's eyes, Tom Selleck's mustache and John Goodman's waistline to host the rest of our exploration. Mr. Mustache hardly peeped as he guided us through the rest of the subterranean landscape that was part Fraggle Rock and part outer space.
We felt grateful and lucky to have explored the underground as our mud soaked body clambered back up another rickety elevator and into the daylight. It wasn't until we ran into a man—who we presumed was the boss from his adamant disapproval that The Observer had toured without the MTA's blessing—that we felt like a spy.
"You can't tell anyone you were here," Mr. Boss Man told us sternly. "The MTA will freak." With no scandal to break or secrets to reveal, we nodded, confused. Was there something we missed?
We reluctantly gave back our boots and safety goggles, but Mr. Mustache told us to keep the hardhat—we just aren't allowed to show anyone.
*In order to protect our underground informants, we were forced to use pseudonyms, Mr. Big Beard, Mr. Mustache and Mr. Boss Man's names have been changed.