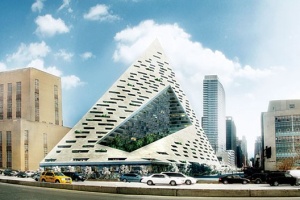 Durst Fetner is at work on arguably the most dynamic, certainly the least square, apartment building in New York City. Jean-Daniel Noland, chair of Community Board 4's land-use committee, even cautioned his fellow committee members against overwrought superlatives when they considered the project last night as it entered the first phase of public review.
"We are in a house of worship, so no talk of icons tonight," he said from behind a long table inside the Actor's Temple synagogue on West 47th Street. "Only Jehovah can do that."
Still, his colleagues on the committee could not resist, referring to the building as beautiful, interesting, celebrated, stunning, beautiful, attractive, singular, impressive, beautiful and destination architecture. At the end of the meeting, when a resolution was being drafted to make recommendations to the full board on what conditions it should support the project, James Wallace said, "I think we should go out of our to note the spectacular beauty of this design."
"Now, now, that's a value judgment, and we just can't do that," Mr. Noland said.
"How about striking," Lee Compton said. "Whatever your opinion, you have to admit it's a striking building."
Yet no matter how striking, beautiful or iconic the design, the committee could not surmount one serious issue. Despite effusive praise for Durst Fetner's legacy, the inclusion of a grocery store, a commitment to public art, and yes, that incomparable design, the fact that the developers had committed to only 35 years of affordability for the below-market-rate apartments it was setting aside within the 740-unit pyramid-shaped struck the committee as an unconscionable act.
"The high-end architecture doesn't do anything to keep the neighborhood diverse," Joe Restuccia said. In other words, a façade is just a façade. Permanent affordability is forever.
Durst representatives claimed they could not, for financial and fiduciary reasons, pursue a project with unlimited affordability to it. Much of this has to do with an unusual ground lease on the development site, which belongs to the Smiley family, once one of the city's largest landlords. Now comprised of some 100 trustees, the Smileys present complex, almost impossible negotiation, according to the Dursts, and it would be difficult to go back and negotiate a deal that would facilitate additional affordability. "In a way, it's 150 units of affordable housing or none," Jonathan Drescher, director of major projects, said.
This comment particularly set the committee members off. "We've heard that so many times before, and we just don't buy it," Mr. Restuccia said. "You're going to get what you're going to get, so we have to do what we can to ensure this project serves the community, too."
Mr. Noland emphasized that this was a matter of precedent. "I think our concern is, affordable housing is an important component of this community," he said. "If you only give it a certain number of years, and you change it, we don't think that's good for the community, we don't think that's good for New York." He later emphasized that this could set a precedent whereby other developers would come in and say, well, the Dursts only had 35 years, so why should we do more.
In a way, the firm's reputation was as much of a hindrance as a help. People just expected more.
But it was also a difficult community to be operating in. On the one hand, Hell's Kitchen had benefited from a great deal of affordable housing development in recent decades, but much of it had been built with a sunset similar to the one being discussed by the developer now. "Look at Trump, many of those units aren't affordable anymore, and that is a problem we have to confront," local councilwoman Gail Brewer told The Observer after the meeting.
"What are we creating up here?" Mr. Wallace said. "Trump, Extell, now this. It's turning into an island of luxury."
The only other major concern for the community besides affordable housing was a desire to see more retail along 58th Street, where the developer has place most of its mechanical systems. Questions were also raised specifically about what might occupy a 16,000 square-foot community facility building the Dursts want to build on the street. They have proposed childcare of some sort but have no firm commitments, which the committee said it would like to see by the time the project reaches the full board in September.
Whatever the concerns, there was genuine excitement about the project on both sides. "As many of you know, we have tried to get many projects off the ground here," Helena Durst said before presenting the plan. "In fact, this is the fourth time I've come before you."