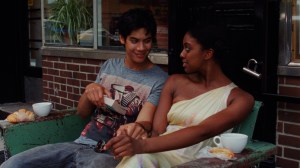 Sex never ceases to inspire. The controversial 1897 play Reichen, by the equally maligned and admired Austrian writer Arthur Schnitzler, is a tango of seduction and interconnected sexual encounters between five sets of lovers in the sack, each one of whom has sex twice. It has been adapted many times—most famously in Max Ophuls's 1950 French film La Ronde, most recently as the Lincoln Center musical Hello, Again in 1994. An updated rewrite by David Hare called The Blue Room opened on Broadway in 1998 with Nicole Kidman in a highly publicized nude scene that had ticket buyers standing in line for hours to secure seats with unrestricted views. Well, brace yourself. It's back again, this time as 30 Beats—a low-budget independent film by first-time writer-director Alexis Lloyd that is about as sexy as a stale noodle kugel.
Mr. Lloyd sets his 10 episodes in the hyper-hormonal contemporary New York singles scene, specifically among horny 25 to 35 year olds, during three hot, muggy days in June 2009. This narrows not only audience demographics but audience interest. It's so much more relevant when people of all ages get into the act and the trajectory proves sex knows no boundaries. This truncated screenplay begins when a pretty young girl named Julie (Condola Rashad) decides to lose her virginity to one of her sister's boyfriends, an anthropologist named Adam (the versatile and always reliable Justin Kirk). Adam has had so many meaningless affairs that he goes to a psychic named Erika (Jennifer Tilly) to analyze his problem. After coating his scrotum in a stimulant cream and soaking him in a tub of hot water to free his "soul," Erika manages only to free something else entirely. The next morning she moves on to Diego (Jason Day), a bike messenger who seeks sex with no strings attached, then for some unexplained reason finds himself stalking Laura (Paz de la Huerta), a woman with a scar whose chiropractor Matt (Lee Pace) subjects her to a series of violent spinal adjustments that crack her bones to relieve tension. After a mind-boggling monologue that reduces the viewer to uproarious hysteria (read on) Diego heads for Kim, the object of his lust, but goes limp when he discovers she's bisexual. Kim (Vahina Giocante) is a switchboard operator in a hotel where one of the guests is Julian (the terrific Thomas Sadoski), a Washington
speechwriter who makes a blind date with her voice on the phone. As a joke, Kim sends a friend in her place, but figuring it shouldn't be a total loss, Julian goes to bed with both of them. Then he turns to Alice (Ingeborga Dapkunaite, and no, that is not a typographical error), a call girl in career transition who ties him up and gives him his money's worth. Before she throws in the towel, she initiates an innocent, vulnerable boy named Sean (Ben Levin) in a steam room. At the end of 88 minutes, the virgin boy in the final scene shares his experience with his best friend, who turns out to be the virgin girl from the first scene, and the circle is completed.
As a director, Mr. Lloyd shows no talent for pace, rhythm and timing, and he doesn't seem to know where to put the camera. As a writer, his dialogue is so demented it cannot be spoken with a straight face, but to prove how far down the rung screenwriting has sunk, it does bear repeating. Lee Pace, who plays the chiropractor, gets the worst of it. What comes out of his mouth has to be heard to be believed, so I wrote it down word for word: "What you think you feel for me is not really what you feel. What you feel are projected redirected feelings that you shouldn't feel like feeling. Not real feelings. The feelings from your past that you are transferencing to me, on me, onto me—but not onto the real me, onto some idea that you have of me. An interesting contradiction. It's all about the fluidity of sexual energy and self-control." To which his patient, the girl with the scar, says blankly, "Are you done?" For starters, does anybody know the definition of the word "transferencing"?
Under the circumstances, even first-rate New York stage actors like Thomas Sadoski and Justin Kirk seem uncertain and tentative. For a movie about sex, based on a renowned play controversial  for both its nudity and its frank description of sexuality (in his day, Schnitzler was labeled a pornographer), 30 Beats is discreetly reluctant to show much skin—a pinch of thigh, a curve of buttocks is about it—and never reaches anything like the sensuality of La Ronde. Director Lloyd leaves it all to the imagination, but in a movie this slow and indecisive, the imagination is no longer enough when we've seen stronger stuff elsewhere.
rreed@observer.com
30 BEATS
Running Time 88 minutes
Written and Directed by Alexis Lloyd
Starring Ingeborga Dapkunaite, Jason Day and Vahina Giocante
1/4