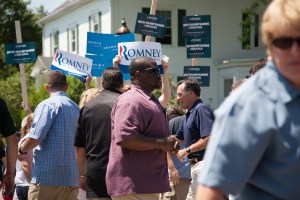 While on vacation at his home on Lake Winnipesaukee in New Hampshire Mitt Romney marched in a July 4th parade in Wolfeboro where his staff and supporters butted heads with people who were there backing President Barack Obama.
"Romney's staff attempted to conceal Obama signs along the parade route, while Romney's supporters in the crowd booed as the Obama campaign marched by–attempting to drown out Obama supporters who were chanting 'Fighting for the middle class. Barack Obama has our back,'" an Obama supporter who was at the parade told The Politicker via email.
For his part, Mr. Romney complimented the Obama supporters at the parade. According to the L.A. Times, Mr. Romney "silenced" his supporters who booed at the mention of the pro-Obama contingent in a speech delivered from the back of a pickup truck after he marched.
"They were courteous and respectful and said, 'Good luck to you,' and 'Happy Fourth of July,'" Mr. Romney said. "This is a time for us to come together as a people. We have differing views on political issues, but with regards to our conviction that this nation is unique and exceptional, we must come together and show respect for what it is that makes us such a great nation."
The Obama supporter we spoke with said Mr. Romney's staff displayed a far different attitude toward their rivals.
"While we were very 'courteous' according to Mitt himself, his staff was apparently concerned about the Obama campaign getting its message out in Wolfeboro, but the fact is today's parade displayed widespread support for Obaama in Romney's hometown," they said. "You know what they say…those who know him best."
Along with marching in the Wolfeboro parade, there is also speculation Mr. Romney may have held auditions for a running mate during his New Hampshire vacation. At least two potential vice presidential nominees–Ohio Senator Rob Portman and New Hampshire Senator Kelly Ayotte–were in the Granite State at the same time as Mr. Romney fueling chatter they may be meeting with him for an in-person vetting session.