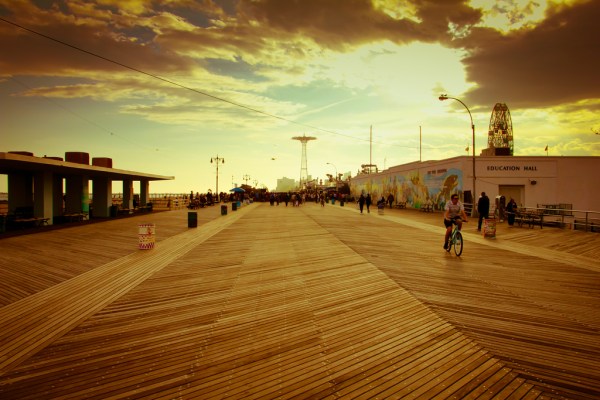 With crowds packing the Coney Island Boardwalk, what better time to debate its famous fate.
In the spring, after a heated year-long debate, the city's Public Design Commission decided to allow the Parks Department to replace the world-renowned walkway with a combination of concrete and plastic promenade that still has locals more steamed than a bucket of boardwalk clams.
Earlier this week, local activist groups and neighbors brought a suit in State Supreme against the city saying the process was materially wrong, according to The Times. Because the city failed to subject the new plan to either its own or the state's environmental review process, there is no way to know its impact, and therefore the project must be thrown out and reapproved, with the proper reviews.
The plaintiff feel as though they, and the boardwalk, have been mishandled by the city, according to the Post. "Rather than spend the money to properly maintain the boardwalk," Ida Sanoff of Brighton Beach told the tab, "the Parks Department wants to destroy this beautiful piece of New York, and replace it with a different structure altogether without any environmental review or community input."
The city insists that this is the only reasonable alternative to tropical hardwoods, as any other wood lacks the necessary durability of the tropical strains, which the Bloomberg administration promised to stop using in 2008. So it's history versus the environment. We know which one wins in the Coney of today.