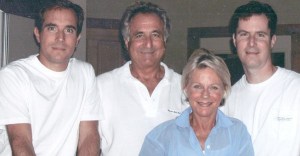 In the midst of running their elaborate Ponzi scheme, the Madoff family invested money in some actual investments—namely, real estate in Manhattan, Long Island and Greenwich.
The government came for Ruth and Bernie Madoff's penthouse years ago, but the real estate holdings of the rest of the family have taken a little longer to claim, as the courts untangle the many complications of recovering cash stolen by the clan.
But now a two-bedroom Park Avenue co-op owned by Bernie's brother Peter has finally hit the market, The Wall Street Journal reports. And lis penden notices have been filed against properties belonging to Madoff's son Andrew and late son Mark, according to The New York Post. Altogether, the homes are worth more than $20 million.
The sixth floor co-op that Peter Madoff owned at 975 Park Avenue is now on the market for $4 million, which is $100,000 less than Mr. Madoff and his wife Marion paid for it in 2004, according to The Journal, not counting the cost of renovations. Not that the sale price matters to the couple.
Neither Mrs. nor Mr. Madoff—who pled guilty to fraud charges in June—will get the proceeds of this sale or the sale of their house on Long Island, which is currently on the market for $5.29 million. The monies will be turned over to the U.S. Marshals Service, as part of an agreement that Mr. Madoff and his family signed as part of his guilty plea.
But Mr. Madoff won't need the place anymore anyway. He'll be living in far less lavish accommodations—a prison cell—when he begins his 10-year sentence later this year. As for Ms. Madoff, she can buy a more modest pad with the $771,733 she's allowed to keep as part of the settlement (we'd recommend Yorkville).
The properties belonging to Bernie Madoff's two sons and their families have not yet hit the market, but the lis penden notices warn potential buyers that they really aren't really the Madoff family's to sell. Trustee Irving Picard has a claim to both Andrew Madoff's $4.3 million apartment at 433 East 74th Street and Mark Madoff's $6 million Soho apartment at 583 Broadway Avenue, where he committed suicide (we doubt that one will sell anytime soon anyway). The government is also going after both of the brother's houses in Greenwich. Just how much the government can claim depends on the resolution of the $255 million suit against Madoff's relatives.
kvelsey@observer.com