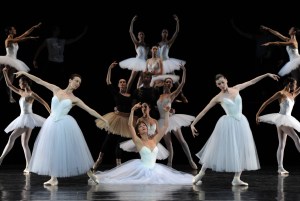 The Paris Opéra Ballet, which recently vacated the Koch theater, put its worst foot forward with its opening program. But what a pretty foot it was—so glamorously arched, so delicately pointed! That, indeed, is to a large extent the story of the company: exquisite technique for its own sake. Look, I go into arabesque! Behold, I balance on pointe! (Balancing is one of the dancers' most cherished accomplishments: They get ready to get up there, they get up there, they stay up there. Applause!) Well, their training is immaculate, and since they have it, why not flaunt it? A few years ago I spent a day at their school, observing not only the perfect manners of the kids—they stop and bow or curtsy to grown-ups they pass in the halls—but the perfect manner in which they're taught to produce steps. It's beautiful to watch, but after a while I realized that something was missing: no one was connecting step production to musical impulse.
Opening night gave us a triple bill by choreographers I'm sure the Opéra considers to be French Modern Masters: Serge Lifar (Russian, but Frenchified by Diaghilev), Roland Petit and Maurice Béjart. Lifar had a stranglehold on the company from the '30s through the '50s, except for a brief period when he was banned for collaborating with the Germans. Alas, his many ballets are essentially without interest, which is why they're danced almost exclusively in France—and even there, not very often. The most famous is Suite en Blanc, and it was this abstract demonstration of pedagogy that led off the season—a procession of short pieces ("La Sieste," "Le Cigarette," "La Flûte," etc.) to the music of Lalo. Everyone's in white, everyone's on his or her best behavior, and everyone dances with the same correct and rather bland approach. On and on it goes, but it never gathers together. That the French consider it central to their tradition the way we think of Concerto Barocco and the English cherish Symphonic Variations only confirms one's idea of the damage done to French ballet by the absence of a major choreographer throughout the 20th century.
The Petit contribution was L'Arlésienne to Bizet's famous score (Christopher Wheeldon used it last year in Les Carillons),in which a distressed but very handsome young man (Jérémie Bélingard) just won't settle down with his fiancée (Isabelle Ciaravola). When a giant window suddenly appears upstage, replacing the Van Gogh-ish backdrop appropriate to this story of Provence, you know what's going to happen. Out he flies—whether because he's in pursuit of the ineffable or because he's irritated by his clingy girlfriend, we'll never know.
Roland Petit was a sensation in New York in the late '40s, when he brought us his company, his star (and wife-to-be) Zizi Jeanmaire and his saucy version of Carmen. And then there was Le Jeune Homme et le Mort, with the great Jean Babilée. All in all, he made 170 ballets before his recent death, and why the Opéra thinks any of them deserves revival is another mystery. I guess they have no one else to claim as their own—except the ghastly Béjart, whose Boléro, with its bare-chested protagonist bumping and grinding and anguishing on top of a round table surrounded by lesser bumpers and grinders would be more suitable in Vegas or the Cirque de Soleil than in a serious ballet company. Maybe that's why audiences always greet it with roars of approval.
The second and redeeming program was Giselle, in a pretty production featuring the company's biggest star, Aurélie Dupont. She exemplifies all the great virtues of the Opéra style: strength, articulation, amplitude; beautiful port de bras and épaulement; command. She's not really a young peasant girl, and she doesn't convey much in the death scene, but this isn't a Giselle about its tragic story. It's about elegant dancers. You know it the moment the peasants burst on to the stage at the beginning of Act One, the young men's legs exquisitely sculpted and stylish in their taupe tights. (A sophisticated friend once remarked to me, "Only the French understand taupe.") Is it biologically possible that no Frenchmen have hips?
The costumes throughout were impeccable, especially the billowing long white tutus for the Wilis in Act Two. Here Ms. Dupont came into her own, her surpassing technique allowing her to blaze her way through the most difficult passages without hesitation—a paragon of classicism. A touch marmoreal? Maybe. But this is not dancing you can complain about. Her Albrecht, Mathieu Ganio, was capable, but who was he? Was he a philandering aristocrat or a sincere young man deeply in love with a girl from the wrong class? I couldn't tell. At the climax of the second act, he had no problems with the extended series of entrechats Albrecht has to contend with. But again, despite all the business with the cloak and the lilies, I had no sense of real grief or atonement. The Wilis were magnificently trained, rising to every occasion, even when at moments the tempo slowed down alarmingly—the marmoreal meeting the funereal. All in all, though, this Giselle is an appealing production with superb dancing, a far happier representation of the Opéra style than the sterilities of Suite en Blanc.
The third program showed the company being cutting edge—if your idea of cutting edge is Pina Bausch, with a 37-year-old version of Gluck's Orpheus and Eurydice. The idea is that as the principal dancers act out their roles, singers shadow them, commenting on, even participating in, the action. The problem is that anything Bausch can provide in the way of choreography is so inferior to Gluck's noble music that it's not just an irritation, it's a sacrilege. She has also taken violent liberties with the music and the libretto—abandoning, for instance, the opera's happy ending, and excising whole swaths of the score.
There are four scenes, through all of which poor Orpheus—deprived of both his lyre and his clothes (he wanders around in nothing but flesh-
colored underpants)—has to move about endlessly, trying to express anguish, defiance, love and despair through Bausch's simplex, repetitive vocabulary. In the first scene he has one of the longest solos in memory, and poor, hard-working Stéphane Bullion could not keep it from being a great bore. This is the scene that has, as part of its décor, an immense felled tree emerging from a side wall and lying across the stage. Another scene (set in a lunatic asylum?) features 12-foot-high wooden chairs. Another has more comfy chairs and lots of mirrors, like a dressing room. (This is where the ravishing Elysian Fields scene takes place.) Everything is clearly intended to startle and provoke, but it just traduces a great work of art.
Why, one wonders, is Orpheus conceived as hangdog rather than heroic? He stands around, shoulders slumped, when he's not oy-veying in spasms back and forth across the stage. (The whole thing, oddly, is sung in German, but there are no supertitles, and the Lincoln Center Festival hasn't chosen to supply librettos, so who knows what all his kvetching is about?) When Eurydice returns to life, she's in a chic red gown and has clearly been studying Martha Graham. Marie-Agnès Gillot is a striking and powerful dancer—you can understand how she can bully poor downcast Orpheus into turning back to look at her as he leads her up from Hell.
This final scene, set on a near-empty stage and presented simply, at least leaves us with a haunting image—the dead bodies of the protagonists and the singers who mirror them lying there (elegantly) as the curtain comes down. It's not what Gluck and his librettist had in mind, but it doesn't really interfere with his glorious music. Once again, less proves to be more. What Pina Bausch and the Opéra failed to grasp is that far less—in fact, nothing—would have been best of all.
editorial@observer.com