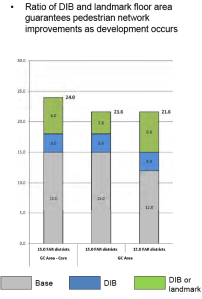 Yesterday, super-scribe Steve Cuozzo had a really smart explainer of the Midtown East rezoning (it was almost as smart as ours). There was one point he made, and picked up elsewhere, that was not entirely true.
11. So one day the city and Argent could be in competition to sell FAR to the same developer? That's the way it sounds to us.
The implication seems to be that this would cost the city money it needs to improve the areas around Midtown East, the entire reason for the rezoning—well, besides building modern office space and enriching developers.
But as this handy chart from the city's study of the project shows, the first 3 FAR of any improved project has to go toward the District Improvement Bonus meant to expand subway platforms and build out Vanderbilt Avenue. From there, it can be a negotiation for the rest, of which there are only so many private air rights to go around.
So while there will be some competition at some point, the city seems prepared to embrace that—business is business—but of course only after it takes its cut.