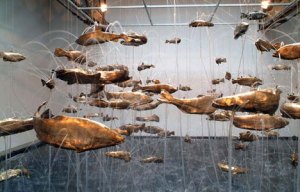 Like most contemporary art galleries, the Gagosian Gallery's international branches tend to go quiet by the end of July, closing to the public or keeping on view a show that opened much earlier in the season. This year, though, Gagosian's flagship spot at 980 Madison will open two month-long shows on July 30, each presenting one major artwork, Robert Ryman's A Painting in Four Parts and Bruce Nauman's One Hundred Fish Fountain.
Mr. Nauman's piece debuted at Chicago's Donald Young Gallery in 2005, the same year it was made, and sold for a cool $2 million to hedge-fund manager Adam Sender, according to an article by Judd Tully in the December 2005 issue of Art+Auction magazine. (Donald Young, who was Mr. Nauman's dealer in Chicago, died in April.) Mr. Sender sold a group of works from his collection at the auction house Phillips de Pury & Company in 2006, and put a sculpture by Charles Ray on the block at Sotheby's two months ago (estimated at $4 million to $6 million, it failed to find a buyer). The Nauman piece at Gagosian is presumably for sale, however neither the collector nor Gagosian returned a request for comment.
The Nauman sculpture, one of the largest artworks the artist has ever made, is a functional fountain comprised of 97 bronze casts of fish that are suspended throughout the air that noisily shoot water out of their mouths into a large basin below, occasionally coming to a complete halt. Shortly after Mr. Sender purchased it, the work was on long-term loan to the Dia Art Foundation's museum in Beacon, N.Y., where it was displayed alongside Dia's extensive holdings of major Nauman works. In fall 2007, the Kestner Gesellschaft, a museum in Hanover, Germany, showed the piece in a special exhibition and produced a catalogue.
In 2006, Mr. Sender's then-curator Todd Levin mentioned One Hundred Fish Fountain to Art+Auction magazine in the context of discussing what were then the collector's plans for an exhibition space for his collection. Measuring 25 feet and 28 feet on its sides, the sheer scale of the work practically demands such a large institutional setting.
Mr. Levin, director of the Levin Art Group, accompanied Mr. Sender to Donald Young Gallery during the Nauman show in 2005, and encouraged him to buy the piece. (Mr. Sender had already acquired a neon work by Mr. Nauman.) Reached by phone this afternoon, Mr. Levin said, "One Hundred Fish Fountain was—and still is—the most important artwork created in this century so far."
If it is for sale, its price tag is likely well in excess of $3 million. Though Mr. Nauman's auction record is $9.9 million, achieved for the 1967 plaster sculpture Henry Moore Bound to Fail at Christie's in 2001, very few of his works have come up to auction. Only three pieces have sold on the block for more than $2 million. Due more to its size than its price tag, there are, internationally, a limited number of buyers for such a work, perhaps a billionaire planning a private museum. A possibility, one imagines, would be Eli Broad, the Los Angeles–based mega-collector who has a large Diller Scofidio + Renfro–designed private museum in the works across from the Museum of Contemporary Art in L.A., and whose Nauman holdings are not among his collection's greatest strengths. Since Mr. Nauman resided in California early in his career, it would be a logical addition.
The upcoming show at 980 Madison is also notable since it is Mr. Nauman's first significant appearance at Gagosian Gallery—not exactly a solo show since, assuming it's for sale, it's a secondary market piece that is being presented. His work has occasionally popped up in group shows at Gagosian over the years. Mr. Gagosian is certainly known to be a fan of the artist's work. He was quoted in Art+Auction in 1990 saying, "Nauman's true value has yet to be realized." Mr. Nauman has been deeply committed to his dealers over the years, showing with his primary New York gallery Sperone Westwater since 1975. He remains with Sperone Westwater.
Sarah Douglas contributed reporting.
Update, July 11, 6 p.m.: An earlier version of this article misstated the date that Mr. Nauman began showing with the Sperone Westwater gallery. He has been represented by the gallery since 1975.