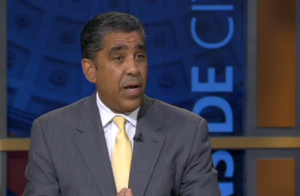 State Senator Adriano Espaillat conceded his race against Congressman Charlie Rangel for a second time yesterday, and it seems he's not planning to issue the apology to the Board of Elections that Commissioner J.C. Polanco called for anytime soon. Mr. Polanco felt his criticism against the board was unwarranted, but Mr. Espaillat made it pretty clear on Inside City Hall last night that he won't be backing down.
"No apology," he stated. "The day after the election we got an unofficial report that showed over 70 EDs … at zero. I could see three or four, that's within the margin of error. But over 70 electoral districts showing up at zero? Totally unacceptable for New Yorkers!"
"A ballooned number of affidavit ballots and hundreds of calls of people that said they were turned away because they said they couldn't find them in the books?" he continued. "No notification for a voter that there was an election. All these things amounted to a big red flag."
Mr. Espaillat went on to point out that many others have been lambasting the Board of Elections for flaws, incompetence and a curious reliance on unnecessary procedures. Indeed, Jerry Goldfeder, an election law guru, went on Inside City Hall night as well, explaining the lack of anything in state law compelling the board to count votes by hand on Election Day.
"The Board of Elections needs to be reformed, dramatically," Mr. Espaillat argued. "I'm not the only one saying it. Mayor Bloomberg said that the process is 'easily corruptible.' The National Association of Latino Elected Officials sent a letter in, complaining and looking into the matter. The Public Advocate, Bill de Blasio, also sent a letter contesting what had happened on the 26th. So I'm not a lone soul saying that some things went wrong. Some things did go wrong and we must make them better. So no apology."
For his part, a victorious Mr. Rangel also weighed in on the issue yesterday, issuing a statement to the press declaring, "Although there was no evidence found, I look forward to working with him to uncovering any possibility of voter suppression or fraud, as well as to foster reconciliation and unity across the communities that became divided during the campaign."