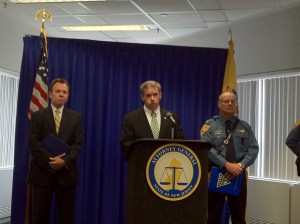 TRENTON – The state's Attorney General announced criminal charges today against two of the New Jersey State Troopers involved in an "unauthorized" state police escort of high-speed sports cars.
Attorney General Jeffrey Chiesa announced the charges against the two troopers involved in the caravan and disciplinary charges against four other state troopers connected to the incident. The two troopers who took part in the escort, and who could face time behind bars if convicted, are accused of altering their license plates to conceal their identities during the high-speed caravan escort.
"What they did was absolutely wrong," Chiesa said, explaing his office alleges the men used black electrical tape to change the numbers on their license plates.
"No one is above the law," he said. "We will not tolerate officers who endanger the public they're sworn to protect."
Sgt. First Class Nadir Nassry, a 25-year veteran of the state police, is accused of heading the caravan and was charged with tampering with public records and falsifying or tampering with records. The other trooper, Joseph Ventrella, was charged with tampering with records.
Nassry is also accused of telling the other drives in the caravan to "conceal or partially conceal their plates using tape or other means," according to the Attorney General's office.
The charges come after motorists in March reported two state-police cruisers leading a pack of sports cars at speeds of 100 mph on New Jersey highways. Nassry's attorney, Charles Sciarra, confirmed to reporters Thursday that his client led the caravan, according to reports.
Sciarra said the trooper was asked by New York Giants former running back Brandon Jacobs to provide the high-speed escort, according to reports.
State Police Superintendent Col. Rick Fuentes appeared with the Attorney General during Friday's news conference, saying the state police adopted new rules for police escorts in response to the high-speed escort.
The Attorney General does not anticipate charging any of the drivers of the sports cars involved in the incident, Chiesa said.
Nassry and Ventrella were suspended without pay. If convicted, both would forfeit their jobs and would be permanently barred from public employment in New Jersey, the AG's office said.
"It was a dangerous situation for the public," Chiesa said. "We're not in the business of endangering the public, we're in the business of protecting the public."
New procedures
The policy going forward for escorts emphasizes public safety, according to the Attorney General's office.
It includes consideration of when an escort may be authorized, specific procedures – including accountability – when authorizing an escort, and having clear instructions on obeying speed limits.
Charges
Nassry was charged with third-degree tampering with public records and fourth-degree falsifying or tampering with records. Ventrella was charged with fourth-degree falsifying or tampering with records.
Third-degree crimes carry a sentence of three to five years in state prison and a fine of up to $15,000, officials said. Additionally, since the third-degree charge against Nassry involves his public office, he would face a mandatory two-year period of parole and loss of his pension if convicted, according to the Attorney General. Fourth-degree crimes carry a maximum sentence of 18 months behind bars and a maximum fine of $10,000.
Disciplinary charges were filed against five other troopers, including one who "improperly handled a traffic ticket" issued to a member of the driving club who was stopped for speeding on the Garden State Parkway in his Lamborghini in 2010, in connection with the incident, according to the office. Disciplinary charges are personnel matters.