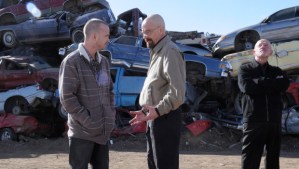 The battle of the networks vs. cable providers reached a boiling point last night, when some 14 million viewers subscribed to DISH Networks were unable to watch the fifth season premiere of AMC's highly popular, uplifting show about overcoming cancer with meth labs, Breaking Bad.
Whether negotiations between DISH and AMC broke down because of a breach of contract (says AMC) or because the network was charging too much for its service (says Dish), the outcome is hurtful to both parties. The ratings for Breaking Bad will be skewed negatively in the short term, since Nielsen only counts people who watch Walt and Jesse make meth during their original time-slot.
Meanwhile, AMC is enticing viewers away from DISH Networks with some pretty clever tactics.
AMC announced Friday that in order not to punish their fan base for having the wrong cable provider, they would be streaming the first episode online to DISH patrons. But don't expect that tantalizing offer to last. From the press release:
 "In response to DISH's recent drop of AMC to gain leverage in an unrelated lawsuit, the network will provide DISH customers access to the highly anticipated return of the Emmy® Award-winning drama "Breaking Bad" on Sunday, July 15, at 10PM EST. AMC is offering a special live stream of "Breaking Bad's" season five premiere to all DISH subscribers on amctv.com. Beginning at 3 PM ET on Friday, July 13, DISH subscribers can register for access to the live stream at www.amctv.com/breakingbad4dish.

Every cable, phone and satellite company other than DISH carries AMC and its popular programming, including "Breaking Bad," "The Walking Dead," and "Mad Men," in their basic package. AMC wants its loyal DISH viewers to experience the excitement of the "Breaking Bad" premiere at the same time as their friends and neighbors, and we want to give DISH customers an extra week to switch providers so they can enjoy the rest of the season."
Unfortunately for DISH customers, they only have that one week grace period to find a new provider: next week's episode won't be streamed, leaving viewers scrambling to find a friend who has Time Warner Cable or DirecTV. Of course, that friend might want to make a trade, seeing as they will be missing channels of their own.
DISH meanwhile, is giving out free Rokus to angry customers, another sign that providers are less willing to acquiesce to the demands of popular networks, which want to increase the rate they charge for transmission. From the perspective of the distributors, they might lose a couple of subscribers, but it's better than letting Viacom or AMC squeeze them dry.
Of course, these free perks now are nice, but who will end up paying for these blackout sessions? Why you will, of course, since once the negotiations are resolved (and they will be), you'll just be charged more to watch shows about zombies, meth, and advertising executives going through existential crises.
Required Reading: "Attention Cable and Satellite Subscribers: This Network is Being Dropped Because Your Provider is Being a
Giant Douche."