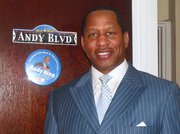 Former Councilman Larry Seabrook was convicted of corruption earlier today, and pursuant to the rules governing the City Council, he was instantly removed from office. Just moments ago, Mayor Michael Bloomerg declared the special election's date to replace Mr. Seabrook will coincide with the 2012 general election on November 6th — but that doesn't mean candidates aren't already stepping up.
Andy King, a former labor organizer with 1199SEIU, told us he definitely plans to run in this upcoming special election. Mr. King performed strongly running against Mr. Seabrook in 2009, taking in over 30% of the vote to the incumbent's 55%, which, combined with his connections to labor, may make him one of the frontrunners for the seat.
"The chief issue in our district is the problems that we're having with our young people, education of our youth and development of opportunity," Mr. King said of his motivation for running. "If we can get it right with our young people … a lot of the social issues that we have tend to handle themselves."
Mr. King said although he hadn't spoken to Bronx Democratic Party head Carl Heastie today, he expects to at a fundraiser for Assemblyman Eric Stevenson this evening and described his campaign as being quickly put together.
"As we talk now I'm in the middle of emails and conversations with folks, especially [checking with] SEIU and DC folks who have committed to me in the last couple weeks, that they would be with me in this journey," Mr. King told us. "We're tying all of the knots up."
And, unlike a state legislative vacancy where the parties handpick their candidates, there will be an open election here for any candidate to toss his or her hat into the ring, which multiple current or aspiring politicians are bound to do.
As Mr. King said, "That's just the nature of the environment when it comes to an open seat."