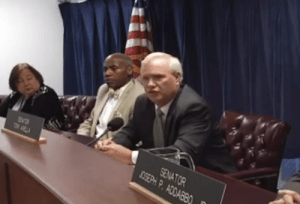 The debate over whether to allow hydraulic fracturing, known as fracking, in the State of New York continues to heat up.
State Senator Tony Avella held a public forum this week aiming to dissuade the public from supporting the controversial natural gas drilling procedure. Mr. Avella's event followed a statement from Governor Andrew Cuomo that he is considering permitting it in five counties near the Pennsylvania border: Broome, Chemung, Chenango, Steuben and Tioga.
For the uninitiated, hydraulic fracturing involves injecting a cocktail of water, sand and chemicals into the ground to crack open rock formations, which contain gas. It has been going on since 1947, but many environmentalists are in a seemingly sudden, even apocalyptic panic mode over the issue, especially in New York. They raise concerns fracking could cause air pollution and contaminate critical groundwater supplies by releasing methane gas and toxic chemicals. One attendee at Mr. Avella's event even claimed that, if fracking isn't stopped, we are facing a situation similar to that in the film The Day After Tomorrow.
Not everyone is on board with this anti-fracking train. In response to director Josh Fox's anti-fracking documentary Gasland, a journalist and filmmaker Phelim McAleer made a movie of his own–FrackNation, which is about to be released as a response to Mr. Fox's movie. While opponents of fracking squad portrays the farmers living near these natural gas wells as endangered by the procedure, Mr. McAleer further argues that this is a debate is between the "rich, urban elite and the rural poor" with bored and wealthy Manhattanites working against poor farmers who could cut deals with the natural gas companies to transform their lives for the better.
The Senate Republicans, who control the chamber, were particularly unimpressed with Mr. Avella's forum.
"Another day, another political stunt by what's left of the Senate Democrat conference," their spokesman, Scott Reif, wrote in a statement.
In the end, it may be up to the voters. At the start of the forum, Senator Liz Krueger, an outspoken opponent of fracking, told the audience she believes fracking can be stopped if the Democrats win a majority in the Senate to complement their control of the Assembly.
"I am very confident that if my Democrat colleagues were the majority in the Senate… both houses would have passed legislation in the last session that made sure that none of us had to be worried about permitting [fracking] going forward," she said.
Yet with the election many months away and Mr. Cuomo moving forward with a limited proposal, advocates are left hoping that sufficient public pressure can be generated to guide his hand. Forums like Mr. Avella's as well as competing documentaries with completely opposite narratives are all part of that public relations battle.