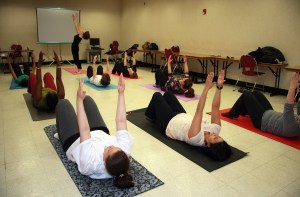 In January, Lincoln Hospital in the Bronx began a program called the Lincoln Art Exchange, allowing artists to receive credits—$40 per hour—towards healthcare if they volunteered at the hospital. The program was designed for artists who are not eligible for health insurance or who are subject to exorbitant co-pays. Last Thursday, the Lincoln Art Exchange received some bittersweet news when the Supreme Court narrowly upheld President Barack Obama's Affordable Care Act, a bill that may reduce its applicant pool by providing more affordable healthcare coverage to independent artists.
However, participants Barbara Russell and Beata Drozd said they would continue volunteering at Lincoln Hospital even if their health insurance situations improve. For Ms. Russell, who volunteers in the psychiatric ward, the real beauty of the Lincoln Art Exchange lies in her work with the patients.
"The experience has made me look into going back to school for art therapy degree," she wrote in an email to The Observer. "I feel we serve a true purpose in helping patients heal quicker.  Encouraging patients to embrace life with all its possibilities gives me hope to continue pursing the importance of doodling on a daily basis for mental health clarity."
But Ms. Russell said she is still excited about the benefits the Affordable Care Act will offer and thinks it will improve the economy. "If a worker does not have to worry about their family, they can focus on job responsibilities," she wrote.
Ms. Drozd said that while she joined the program due to the high cost of health insurance, she personally enjoys gaining life experience working with other patients. She conducts art workshops with children and teenagers in the pediatrics ward and plans to continue doing so.
"It's a great experience because it's like something completely new. You just never know what to expect from each child. They each bring their own interests and experiences," she said.
Mr. Drozd is somewhat skeptical about the new law, though, and hopes it will not affect the original mission and subsequent outcome of the Lincoln Art Exchange. It appears Ms. Drozd will get her wish, at least temporarily.
Colette Barrow, the program coordinator, said the new healthcare law would not have any immediate effect on the program's current operations. She was unable to comment on whether an artist receiving healthcare through the Affordable Care Act would still be eligible for the program. However, participants currently qualify based on their income, allowing some to partake in the program that do have insurance but cannot cover the costs of their co-pays.
Since starting the program, 39 artists have enrolled—participants have painted murals, done poetry readings and conducted creative writing workshops, among other activities, in exchange for healthcare. Artists can participate as often as they would like and credits can be used towards any service the hospital offers.
Though the program is still working to get established in the community, Ms. Barrow said it has been relatively successful thus far.
"For us, this is a part of our mission as a public hospital to reach out to those regardless of whether they have insurance or not, regardless of their ability to pay, regardless of immigration status. That's really what we believe in," she said.
They are currently working with Comunilife's program "Life is Precious," a suicide prevention effort focused on Hispanic women. Artists are conducting workshops and dance classes with the participants, and Ms. Barrow said they hope to debut the results of the collaboration in a theatre.
Lincoln Art Exchange took its cues from a similar program at Woodhull Medical Center called Artist Access that launched in 2005 and has since had around 700 participants. Like its sister program, Artist Access will not be effected by the Supreme Court's ruling, said Lynn Schulman, director of communications at Woodhull.
For Enrique Martin, participating in the Artist Access program allowed him to discover his cholesterol problem despite losing high-quality medical insurance when he was laid off from his job.
"It would have cost me almost $4000 a month to replace the coverage I had with the company. There's no way I could pay that," he said. But by taking pictures of newborns for the hospital, Mr. Martin was able to receive healthcare at Woodhull.
"In order for me to have found out about my cholesterol problem, I would have had to have regular insurance … Artist Access provided me with the means to do that," he said.
Similar to those involved with the Lincoln Art Exchange, Mr. Martin's work with Artist Access will continue regardless of the outcome of the Affordable Care Act.
"I'm all for the law. I approve it totally. But even if I were to get full-coverage insurance today, I would still stick with the program because I've become very attached to that," he said. "Most of the time, I'm first person to take the picture (of the newborn). I'm amazed by it, really. I'm really enjoying the entire experience."