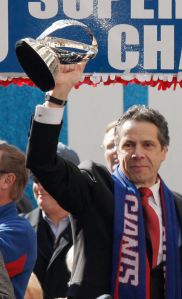 Democratic State Senator Tony Avella is not sure if Governor Andrew Cuomo truly belongs in his party, despite what the governor's voter registration might otherwise indicate.
"Is he? Is he?" he laughingly asked when last night's interview on Capital Tonight veered to a question as to whether Mr. Cuomo, as a fellow Democrat, will support Democrats in the State Senate. Mr. Cuomo, who has had a very warm relationship with the Republicans in the Senate Majority (and a rather frosty one with the Democrats there), has already openly speculated on the idea of endorsing individual Republicans for reelection in that body.
"The question is, 'Will the governor support some Democrats in the Senate for reelection?'" he continued. "Well, he's the only one that knows the answer to that. Personally, if he endorses me, that's fine. If he doesn't, I don't care. I'm not going to ask for his endorsement. I'm running on my record on the year and a half that I've been in the Senate, what I did before and what I plan to do in the future."
Mr. Avella is known for being fairly outspoken, so the direct rhetoric here is not out of character for him. For example, Mr. Cuomo is widely speculated to be interested in a presidential campaign in 2016 and Mr. Avella bluntly declared the governor's potential position on hydrofracking could ruin those aspirations.
And, during last night's interview, he may have hinted that Mr. Cuomo's support for Republicans could similarly affect his future political brand.
"The governor can, quite frankly, if he doesn't want to endorse Democrats for the Senate or help us get the majority back, that's up to him," he mused. "In some ways that will reflect upon him as a Democrat, if he is a Democrat. Let's see what he does!"