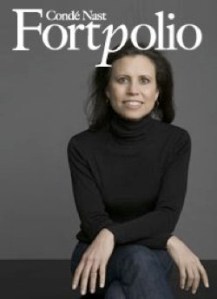 Who's the character behind the latest bit of Conde Nast roman a clef? What does Barry Diller think of his newly-owned print magazine? What constitutes superficial beauty in a place as fundamentally ugly as D.C.? Did Malcolm Gladwell cause the recession? Does he wish he did? Who is producing the most powerful journalism of the day? And will Robert take K-Stew back? Today's Power Lunch is brought to you by the Four-Cosmo Circa 2007 Michael's Expense Account Lunch and Towncar Combo, and offers no real answers to any of those questions. These are your afternoon media briefs: 
Hello Nast-e, How You Been? In the "great" tradition of The Devil Wears Prada, Erik Maza reports on yet another bit of roman à clef that has emerged from the former innards of Conde Nast. Okay, so: Karl Taro Greenfeld's forthcoming (and very hyped!)  Triburbia isn't exactly mass-market paperback fodder, but there is a bit about a Conde Nast magazine that "didn't survive very long in the digital age." The context provided and Maza's guesswork lead him (and us) to believe it's based on one Joanne Lipman of long-deceased Portfolio where Greenfield once worked. Portfolio famously blew a bunch of cash and its failure was like a really highbrow and way more expensive version of any one of Radar's three failures with far less drug use and more Michael Lewis and Felix Salmon. Also, Jeff Bercovici will probably never work at Conde Nast again for the wonderful media reporting he did (on Conde Nast; attaboy!) when he was there. Anyway, Maza hysterically called up Joanne Lipman who didn't comment on the book because she hasn't read it, but more importantly, we now know that Lipman is writing a book about her childhood music teacher instead of a Conde Nast tell-all. [Memo Pad / WWD]
Ghostface Dillah! IAC chairman Barry Diller was on the company's earnings call today when Peter Kafka heard him talking crazy-talk: A print-less Newsweek? Never! But: Not entirely unlikely! [All Things D] 
Nahoo: Welcome back to the media headlines for a day, Jamie Mottram, who previously oversaw Yahoo's whole blog experiment thing, who is now going to USA Today's Sports Media Group. Onward and lateral-ward! [Fishbowl NY]
On The Upside, You Get Marion Berry As Your Mayor: Have you thought about leaving New York City for higher ground lately? Tired of the Gotham grind? Well, D.C. news/gossip/scuttlebutt sheet The Hill has released their 50 Most Beautiful People list for this year, and it's as good a argument against it as anything else, especially if you've vaguely considered moving to D.C. (and let's face it: if you in fact have vaguely considered moving there, you deserve whatever fate awaits you). Also, tawdry mid-summer feature experts that we are, could you pick a worse way to shamelessly paginate, as a deterrent to reading through the entire thing? In D.C., no, because everyone there buys into things like this, as opposed to only a fraction of bored New Yorkers when we do them. [The Hill]
Someone Only She Knows: Remember what Maureen Dowd was like when she was an entirely respectable and hard-nosed reporter, before she pioneered the art of the hard-sell headline (long before The Internet—and TimesSelect—was ever a thing)? Of course you don't, because none of us were alive and if we were we didn't know who Maureen Dowd was yet because she was still an entirely respectable and hard-nosed reporter. Well, now you can relive those glory days. The Awl has a feature on it. [The Awl]
Outliars: Did Malcom Gladwell cause the recession? No, but it's fun to imagine him doing so because he once lectured at Lehman Brothers. Also: Wouldn't he just love  that? In even asking the question, Andrew Sullivan gives Malcolm Gladwell way, way, way too much credit today, while Felix Salmon gives him way too much space to defend himself of this accusation. All of which goes without saying: We all know Jim Cramer caused the recession, anyway. [Andrew Sullivan, Felix Salmon]
And The Pulitzer for Pattinson Service Goes To: The most groundbreaking thing happening in journalism today has to do with Kristen Stewart cheating on Robert Pattinson. This is like Watergate (for our angsty teenage cousin). It's literally inescapable on any social media platform right now. Congratulations, US Weekly, you've officially pushed VICE out of the "obligatory esoteric ASME nomination" position for next year's awards. [US Weekly]
Please remember to send your tips, legal threats, pencil sketches of funny dog breeds, and pro-bono accounting advice right here.
Happy Wednesday.
fkamer@observer.com | @weareyourfek