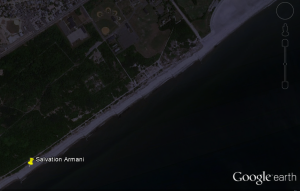 When the door closed behind me at the Real Fine Arts gallery in Greenpoint last Sunday afternoon, it was completely pitch black—so black, in fact, that it was impossible to see my hand when I waved it in front of my face, much less the two gentlemen I had seen when one opened the door to let me inside. Which was a little unsettling.
After my eyes adjusted, though, I could see a faint stream of light coming through a small hole in the otherwise completely blocked-out front windows. One of the men, artist Ben Morgan-Cleveland (who co-runs the space and was still completely invisible) explained that he has transformed the gallery into a camera obscura.
The light passes through the hole and hits two tall plastic walls that Mr. Morgan-Cleveland has built in the space for his show "Salvation Armani," which is up through Aug. 5. The images are upside-down and reversed on the plastic as a result of that journey.
It's slightly blurry and utterly captivating, like a lush, never-ending film projection. The Brooklyn-Queens Expressway runs outside the gallery, and dozens of cars and trucks flew by. Above it (in the upside-down image), people were parking their cars and going to the Staples across the street.
After a few minutes, it became relaxing and almost meditative, watching the world hum along quietly in a cool, dim room. It's a perfect antidote to a hot, bright summer day at the beach. (Incidentally, Mr. Morgan-Cleveland's show moves to Fort Tilden Beach in Queens on Thursdays and Fridays.) The camera obscura is open only on Sundays, from 12 to 6 p.m.
Every Friday, Don't Miss It! looks at a single artwork on view in New York.