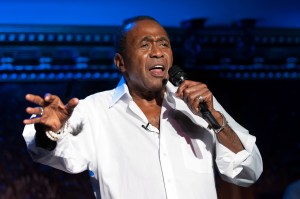 Opening last month with brassy Patti LuPone and continuing now with the jazzy, undulating Terpsichore of Fosse-trained Ben Vereen, the new Broadway nightclub called Below 54 (so named because it is located in the subterranean "VIP room" below Studio 54, where all the X-rated drugs, depravity and fun took place in the good old days) still has kinks to iron out before it becomes the smash it deserves to be. With its romantic lighting by Tony-winner Ken Billington and its crown moldings, exposed beams and flowered velveteen wallpaper envisioned by architect Richard Lewis and ace Broadway designer John Lee Beatty, it looks like a Victorian music hall cross-pollinated with a Parisian brothel. Cabaret maven Phil Geoffrey Bond and creative consultant Scott Wittman (he wrote Hairspray) are booking the joint, promising an eclectic array of forthcoming performers between jobs culled from Broadway shows, and the Las Vegas seating plan guarantees there is no such thing as a bad table. They save that for the food. Plagued with problems in the culinary department, the kitchen wasn't open in time for the unveiling, and although food is now being served, it shouldn't be. If they're going to be a dinner club, the food has got to improve. I ordered something called "tamarind chicken," whatever that is, and it arrived poached in water and so rare there was blood coming out of its poitrine. The young, inexperienced staff was so friendly and anxious to please that I hated to bother them by sending it back, but really. The bread was cold, the poultry was raw and there was no salt, pepper or butter on the table. Oh, well. This is not a restaurant review, but be forewarned: the chef, according to the publicity releases, has created a "market-driven contemporary bistro menu" that is largely inedible. The food is terrible. For a $60 per person cover charge plus a $30 food and beverage minimum, you have a right to expect more from dessert than something called "olive oil cake with popcorn ice cream." This is gourmet muck? It tasted like cough medicine. Suggestion: eat before you leave home and drink yourself silly.
None of this matters, I guess, as long as Ben Vereen is in the follow spot. Opening with a boring compilation of tired songs from his hit shows Pippin, Hair and Jesus Christ Superstar, he moves on to a snippet of Charles Aznavour ("I Didn't See the Time Go By") and then changes the pace with a respectful tribute to Sinatra, taking "My Way" at a slower, more poignant tempo than anyone ever has. It is almost whispered, but it builds, brick by musical brick, into a passionate climax. Clearly, he is saving up his casino voltage for his idol, Sammy Davis Jr. "I've Got a Lot of Livin' to Do" from Bye Bye Birdie is a wicked nod to the Playboy philosophy of Frank, Dean, Sammy and the whole Vegas Rat Pack, but with his bowler hat and jumping, flying soft-shoe shuffle, whistling an entire chorus, "Mr. Bojangles" is more a tribute to the legendary Bill Robinson. Talking his way through "Life is Just a Bowl of Cherries", his voice is like ice skating. It just glides.
A 1992 car accident in California in which he was hit while walking on the highway near his home, coupled with a stroke, landed him in years of hospitalization and a prediction that he would never walk again. Hence an unwelcome hiatus from show business that was marked by a long absence from Broadway. But Ben Vereen has surmounted all obstacles, recovered miraculously, and turned his bad luck into a talisman to live by. He inspires his fans to "Never give up, hold on, and rise again!" He lives up to his philosophy at 54 Below and leaves the audience cheering. For now through July 21, to borrow the title of his swinging opening number by Fats Waller, the joint is jumpin'.
rreed@observer.com