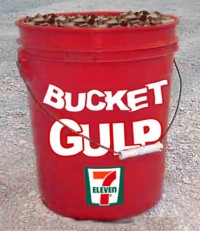 The passionate opposition of the pro-obesity lobby pro-soda-size-choice lobby has already assaulted Mayor Bloomberg with a 'Million Gulp March' for Big Soda. What's next? Fashion, for people and drinks of all sizes!
Apparently, some movie theater employees are trading in their regular workwear for a couture statement that speaks out against our city's dictatorial soda size discrimination.
Via Reddit, the shirt, which appears to come in a not-small size: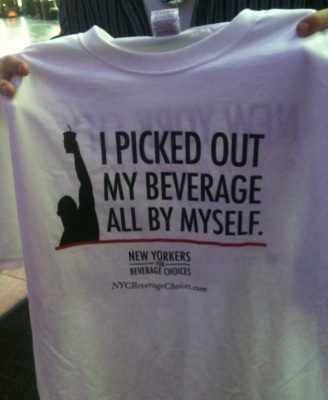 This dramatic one-piece eggshell cotton top isn't just workwear, though. The shirt is becoming the hottest thing in street style since creepy men with cameras who aren't Bill Cunningham took over Manhattan, as it's been spotted outside the most fashionable film houses in New York, too. Another Reddit-er dishes:
Yeah, I was approached by a woman in that t-shirt on 2nd ave this past weekend. She asked me if she thought I should have the freedom to choose my own soda. I told her I should have the freedom to see a movie that I paid to see without being accosted by a corporate lobbying group.
The marketing efforts of the ominously-named NYC Beverage Association (who, as far as we can tell, is not run by Mugatu) have also yielded an oddly charming social media presence to shill their sugary, larger-than-large wares. Besides somehow securing an Authorized Account on Twitter, they've also managed to capitalize on "celebrity endorsements" of their cause: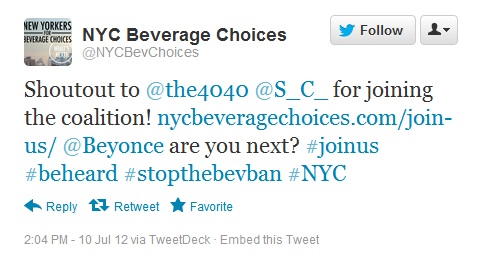 Explanation: Though Jay-Z has not explicitly endorsed an extra large Dr. Pepper for President, he does hold a minority ownership stake in the Brooklyn Nets, and has a branded outpost of his 40/40 Club inside the new Barclays Stadium, and thus, could stand to gain from larger drink sales. This does, however, conflict with Beyonce's ties with Michelle Obama, who has promoted a platform of health and anti-obesity measures, which is why she's been asked where she stands on the matter of Pro-Soda-Size-Choice. As far as The Observer can tell, she has not commented.
Also, canny, topical references: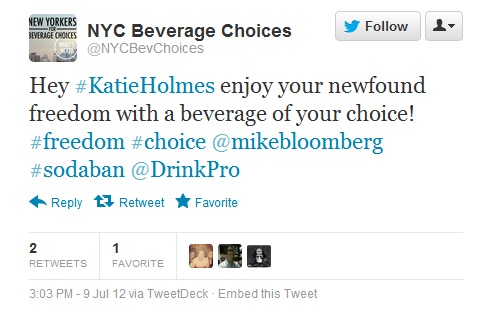 Despite being a B-League style figure, Ms. Holmes has not yet endorsed Big Soda, either. Anyway, here's hoping the campaign for larger sodas gets more and more extreme as the summer goes on. Anything to remove us from the sordid situation of being stuck in the civic boiler that is New York City for the Summer, like the surreal, Wall-E-esque campaign in favor of the liberty to fatten ourselves beyond repair in the loving embrace of oversized mass-manufactured bubbly sugar water: A comical, and thus, only mildly intrusive distraction from the reality that we live in the world we do, in which people are actually passionate about drinking bedpan-sized sodas that pickle your body (and in the case of male Mountain Dew drinkers, supposedly do wonders for one's genitals).
fkamer@observer.com | @weareyourfek