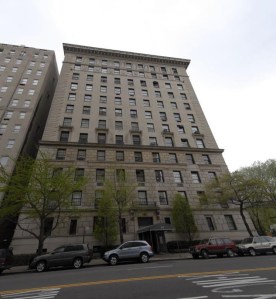 Apparently people are willing to pay a premium to live in the apartment of a reclusive, doll-loving copper heiress. At least they are when it's a massive, 12th-floor spread facing Central Park.
Boaz Weinstein, the founder of Saba Capital, has paid $25.5 million for co-op apartment 12W, a full $1.5 million over the $24 million ask.
The deal, which was rumored to be in place in May, has finally hit city records.  Mr. Weinstein purchased the pricey pad under the LZ Trust, after winning the approval of the co-op board (something that the prospective buyer of Clark's other apartments on the 8th floor failed to do). Although the sale took long enough to go through, with a contract signed in early April.
"It's only one of a few co-ops in the city that you can buy under a trust," Brown Harris Stevens spokeswoman Amy Gotzler noted when we called her about the sale.
The apartments—which are said to need a lot of work—have attracted interest and speculation ever since Clark died in May 2011 at the age of 104. After hitting the market this spring, the 12th-floor apartment, listed with Brown Harris Stevens brokers Mary Rutherfurd and Leslie Coleman, went almost immediately into contract.
The listing described an apartment of antiquated splendor and hard-to-match scale: ornate moldings done in the style of Louis XVI, award-winning architects and designers of the 1920s.
"It was like going back in time 100 years," one potential buyer told The New York Times shortly after the home hit the market. "There was oak paneling and original wood floors, and in the kitchen there were appliances from 1915. It was a throwback."
Clark, who believed herself beset by mysterious illnesses, had not lived in the apartment for years, preferring the sterile splendor of a hospital suite.
Mr. Weinstein, once he completes the extensive renovations required to inhabit the space, will be its first inhabitant in decades.
The apartments are being sold by the New York County public administrator, who is managing the estate worth some $400 million. Clark's distant relatives have already cast the first blows in what is sure to be a bruising court battle over Clark's fortune (they accuse her attorney and accountant of mishandling her fortune). Now they have $1.5 million more to fight over.
kvelsey@observer.com