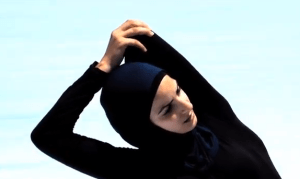 Last year, during the pre-Olympic Arab Games in Doha, Qatar, photographer Brigitte Lacombe and her documentary filmmaker sister Marian Lacombe, hung out with some female athletes for the purpose of creating a new series of portraits. The resultant series, a striking look at female basketball players, swimmers and fencers, which was commissioned by the Qatar Museums Authority, will be unveiled in a show at Sotheby's London entitled "Hey'Ya: Arab Women in Sport." Today, Nowness posted a great selection of images that offer a glimpse of the upcoming show, which runs from July 25 through Aug. 11.
Ms. Lacombe, who is known for her bold and classic celebrity, film-set and lifestyle portraits, examines these intrepid women with the same bold treatment—deservedly so. "For them to arrive at this level of excellence," Ms. Lacombe told Nowness, "requires extreme determination to overcome resistance—not only cultural, but economic and political."
And this trailer's also worth a peek.
[youtube http://www.youtube.com/watch?v=Gzsuy3zoeRM]